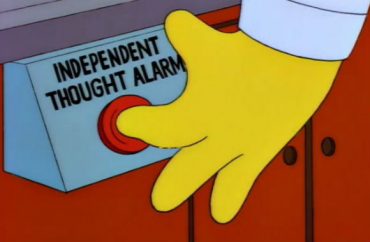 At odds with 'protecting the mental and emotional well-being of all students'
The School of Education at the State University of New York-Geneseo believes that state law prevents teachers from publicly acknowledging the biological reality of sex.
It has indefinitely suspended a student from completing required coursework until he takes down his Instagram videos – particularly one that says "a man is a man and a woman is a woman" (below) – tones down his "social media presence" and submits to what he calls "re-education" training, The Daily Wire reports.
The news outlet reviewed Owen Stevens' suspension, which bans his participation in "in-school field experiences and courses that have field experiences" until he accedes to the school's demands.
SUNY-Geneseo claims Stevens can't express common conservative views on biological sex, Columbus Day and the neo-segregation now popular in campus diversity programs – all subjects of his Instagram videos – simply because of his program.
A spokesperson told the Daily that students must follow the "professional standards" of their chosen field by acting and behaving in ways that "may differ from their personal predilections."
MORE: College faces trial for forcing conservative student to lobby for leftist causes
The suspension letter says Stevens' videos suggest he can't protect the "mental and emotional well-being of all" students in classes he teaches. His behaviors are out of step with the school's "Conceptual Framework" and violate its "inclusivity doctrine":
You continue to maintain, "I do not recognize the gender that they claim to be if they are not biologically that gender." This public position is in conflict with the Dignity for All Students Act requiring teachers to maintain a classroom environment protecting the mental and emotional well-being of all students.
(The Daily says the letter is signed by the school dean, but doesn't name that person. It's not clear if that position is currently filled: No such person is named on its page, and the university is actively looking for a new dean.)
SUNY-Geneseo President Denise Battles denounced Stevens without naming him in a campuswide email, reviewed by the Daily, but said the university couldn't punish him because of "clear legal limitations" on its ability to "reduce the pain" his speech has caused.
Preventing Stevens from fulfilling program requirements because of his viewpoint is still arguably a First Amendment violation, however.
Nearly two years ago, the Rhode Island Supreme Court sent a longstanding lawsuit on viewpoint discrimination in the name of "professional standards" to a jury trial. The alleged facts were similar: A "progressive" department of a public college forced a student to advocate for views he didn't hold as a condition of completing his program.
Stevens said he won't comply with the demands.
MORE: Groups urge SCOTUS to protect student speech deemed 'unprofessional'
IMAGE: Frinkiac.com
Like The College Fix on Facebook / Follow us on Twitter