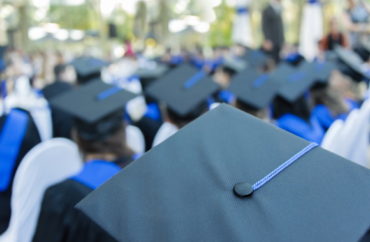 'Degree in 3' reflects university's commitment to 'affordability in higher education'
Students at Purdue University can now graduate in just three years with one of 55 different degrees.
The "Degree in 3" program, which was pioneered in 2014, now spans 11 colleges within the Purdue system. This scale dwarfs the original five degrees offered by Purdue's Brian Lamb School of Communication, where the program was initiated.
Through the education fast-tracking, students can save between $9,000 and $19,000 in total college costs — savings that have remained remarkably consistent since its inception, according to the program's officials.
This is due largely to Purdue's 10-year tuition freeze, which was just extended through 2022-23, they said.
Lori Sparger, chief operating officer at Purdue's College of Liberal Arts, praised the school's ability to expand the three-year model outside the communication discipline.
"Our academic unit heads and academic advisors worked together to create the set of Degree in 3 course arrangements when we expanded beyond Communication. It was a great collaborative effort to offer a robust set of Degree in 3 options," she said in an email to The College Fix.
When a student enters Purdue, they can "declare their intent" to pursue a three-year degree. That means they take two summers' worth of courses and choose a major early in their academic career.
The school stresses, though, that three-year students don't sacrifice the perks of college life. They can still study abroad and secure internships — all for college credit.
Similar three-year programs have grown in popularity in recent years. In 2018, there were more than 32 colleges and universities offering accelerated programs, according to a report from the Progressive Policy Institute.
Across the pond, three-year degrees are even more popular. Cambridge, Oxford, and the London School of Economics are all elite institutions that have widely normalized three-year degrees.
Sparger commented on the model's cultural relevance.
"There have always been students who finished their degrees in less than four years. And, in fact, three year bachelor's degrees are the standard in many parts of the world," she said. "'Degree in 3' offers another narrative about how long students should expect to spend in college and opens the possibility to more students."
And just because a student doesn't officially enroll in "Degree in 3" doesn't mean they're barred from graduating early.
"Each graduation, there are… many more students who complete their degree in [three years] as well. The average time to degree for Purdue students is now less than four years (3.98 in 2019-2020). We also see a steadily increasing number of students who either complete in three years or in less than four, but more than three. That was our hope when the program launched," Sparger said.
A degree's ability to be completed in three years depends entirely on its flexibility. Although humanities degrees are typically easier to incorporate, Purdue offers several three-year STEM majors, too.
"Degree in 3 includes majors that are more flexible. Those which are highly sequential or which have a number of required courses offered only in one academic semester are trickier… [But] that does not mean a student will never complete those majors in three years," Sparger said.
During its expansion, Dean of Liberal Arts David Reingold spoke to the academic and cultural values driving the program.
"Degree in 3 is an integral component of Purdue's commitment to affordability in higher education… Focused, motivated students will leverage Degree in 3 to earn an undergraduate degree at a lower cost and to get on a path to career and earnings faster. Over time, Degree in 3 will be a game-changer," Reingold said in a statement.
Purdue has been lauded previously for its efforts to cut college costs. In addition to not raising tuition since 2012-13, they partnered with Amazon in 2014 to reduce the cost of textbooks by up to 30 percent. Over the past ten years, Purdue has gone from being the "second most expensive in the Big Ten to the most affordable," the school said a 2020 statement.
MORE: Successful vocational apprenticeship program proves traditional college not the only path to success: report
IMAGE: Mr. Nikon / Shutterstock
Like The College Fix on Facebook / Follow us on Twitter