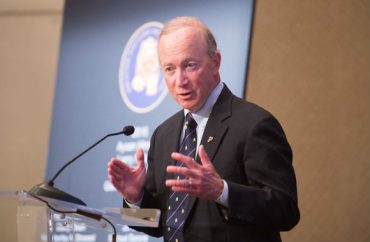 Purdue University president Mitch Daniels this week called the continued harassment of a pro-freedom Chinese student on his campus "unacceptable and unwelcome on our campus."
Daniels was responding to a recent article in ProPublica that detailed the intimidation and harassment faced by Chinese Purdue student Zhihao Kong after he spoke out against the Chinese government.
Kong, an engineering student, had recently gone public with his complaints against China, saying he was appalled that the Communist regime had claimed the COVID-19 virus originated in the United States. He further said China had worsened the pandemic by covering up the presence of the virus.
Finally, he posted an open letter praising the Tiananmen Square protesters who died at the hands of the People's Republic of China three decades ago.
"The future of democratization in China remains bleak," Kong wrote. "We are young Chinese students who share the values of democracy and freedom, and we are fortunate to learn the message of the free world thanks to God. Thirty-one years ago, students who fell at the gun of PLA on the streets of Beijing became a topic that China could not mention. … We refuse to be silent."
Chinese officials saw his post and paid a visit to his parents, trying to intimidate them into getting Kong to stop posting pro-democracy statements. When he finally talked to his parents, Kong said they "were crying in the phone call. My father was urging me to stop such activities."
Members of the Purdue Chinese Students and Scholars Association began threatening Kong in an online chat.
"Suspicion of participating in espionage organization that aims at overthrowing the government, we can call 12339," wrote one student, referring to the number used to report anti-China activity to the Ministry of State Security, China's spy agency.
"For now you have violated PRC's 'Anti-Secession Law,'" said another student. "According to this law we can indeed report your real name."
"We regret that we were unaware at the time of these events and had to learn of them from national sources," said Daniels in an email sent campuswide. "That reflects the atmosphere of intimidation that we have discovered surrounds this specific sort of speech."
"Joining the Purdue community requires acceptance of its rules and values, and no value is more central to our institution or to higher education generally than the freedom of inquiry and expression," said Daniels, adding, "Those seeking to deny those rights to others, let alone to collude with foreign governments in repressing them, will need to pursue their education elsewhere."
Read Daniels' full statement here.
ALERT: Check out our new Campus Cancel Culture Database!
IMAGE: James O'Gara Photography
Like The College Fix on Facebook / Follow us on Twitter