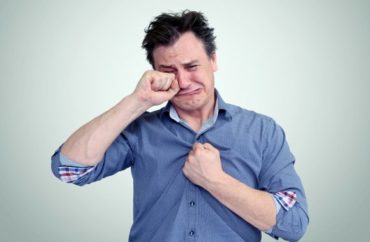 A comedian performing at Purdue University caused numerous students to walk out of the performance and left others in tears.
Andy Gross was invited to do his act at The Boiler Gold Rush, the university's new student orientation. "(At first) it was fine," a freshman in attendance said. "They showed a tape of him going around with half his body cut off and he pulled a bowling ball out of a piece of paper."
But soon Gross invited a female student to assist him on stage, and that's when things got … uncomfortable.
According to WISH-TV, the student left the stage crying after Gross "told her to move closer to him, joked about being sexually aroused and instructed her to touch his leg."
"Press up against me, back to back, cheek to cheek," he can be heard telling her. "I need you to take your left hand and place it on my leg."
The Exponent reports Gross also made jokes about — gasp! — former NBC news celebrity Matt Lauer, who was ousted from his position after sexual assault allegations were made against him.
All attendees were eventually instructed to leave the venue, said [a] freshman, who requested to remain anonymous.

"Music began to play over [Gross's] microphone," he told News 8. "The organizers told us to expect an apology that could potentially come from [Purdue President] Mitch Daniels."

Hundreds of students Tweeted about their discomfort and anger using the hashtag #AndyGrossIsGross.

"Devastated with what happened tonight," wrote incoming freshman Ethan Kaplow. "Purdue students were sexually assaulted by a ventriloquist named Andy Gross infront [sic] of 7000 students. This kind of stuff shouldn't happen on a safe campus like Purdue. #AndyGrossIsGross."

Several students reported seeing campus officers escorting Gross from the venue; the Purdue University Police Department declined to confirm their involvement and did not reveal if they were investigating claims of sexual harassment.
The Exponent notes the university's Counseling and Psychological Services and Center for Advocacy, Response and Education were "on scene within minutes"(!!) to offer support to any student negatively affected by Gross's act.
CARE was contacted earlier this evening regarding a performance during the BGR closing ceremony that was described as harassing and offensive. As a result, a CARE advocate responded to campus to offer support to students.

— CARE at Purdue (@CAREatPurdue) August 19, 2018
University spokesman Tim Doty said "accounts differ as to what exactly happened on stage, but some portions of the performance were clearly inappropriate and contrary to the university's values of respect and support for all." He added Gross will not be invited back to campus and is "proud" of the students who "voiced their concerns" about his act.
Read the full WISH and Exponent stories.
MORE: 'Gay Pride Comedy Night' shows why comedians won't play colleges
MORE: Why Chris Rock stopped doing standup on college campuses
IMAGE: Shutterstock.com
Like The College Fix on Facebook / Follow us on Twitter