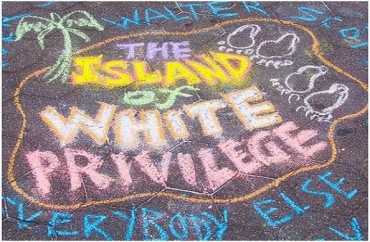 Self-described "racial justice educator" Debbie Irving will be telling those at Congregation Beth Hatikvah to "check their privilege" when she speaks at the Summit, New Jersey synagogue this coming Wednesday.
Jews are "highly attuned to injustice" because of their long history of persecution, Irving says, but "in recent times [they] have entered 'some circles of power.'"
Thus, "if they really allow their Jewish identity to become front and center and focus on the values around injustice, the Jewish people are the ones who actually are in a position to dismantle the system in ways that other people might not be."
Irving is the product of a wealthy Protestant home in Boston and author of Waking Up White, And Finding Myself in the Story of Race.
Her lecture is sponsored by the Summit Interfaith Council as part of an initiative to "raise awareness about ongoing issues of racism in our country and in Summit and surrounding towns."
The New Jersey Jewish News reports:
Irving said that as a child, "my contact with blacks and other people of color was absolutely zero." Her perception of them "was two-dimensional, like a cartoon. My life was a white upper-class bubble…. I did indeed hold ideas down deep that white people were superior."

In Waking Up White, she writes that "education is key" to overcoming white racism and educating grown up white people, "especially about how racism works and how it is possible to be complicit in it. You have to get to the policy makers and the teachers to implement an anti-racist curriculum because it is the older age group that is holding the system in place by perpetuating myths."
RELATED: Public university spent $11,500 on racially segregated retreats examining white privilege
Since her book was published in January 2014, Irving has devoted much of her life to her work as a "racial justice educator." She is constantly on the road, fulfilling at least 100 speaking engagements each year. "I like to be out there in conversation with communities because I learn so much when I hear what is on people's minds," she said.

In that role, she said, "white supremacy is one of my favorite terms for educating people. White supremacy is not just about the Ku Klux Klan and neo-Nazis. It is what the United States is founded on. It means that white, male, Christian, heterosexual, able-bodied, owning-class people are supreme."
Some of the myths perpetuated by that "older age group" can be seen in the current presidential campaign, Irving says.
"[…] several candidates have 'unearthed the degree to which white people are full of hatred and anger — not just toward our government, but they are terrified that this country is, in their minds, being taken away from them.'"
She adds that the current generation gives her hope because colleges have made "a major investment in educating about oppression."
Well, the term "educating" is certainly debatable. Many would use the term "indoctrinating."
h/t to EAGNews.org
RELATED: Chicago Theological Seminary uses absurd video to teach about 'white privilege'
RELATED: Claim: 'White privilege' to blame for theology dispute with black prof at Christian college
Like The College Fix on Facebook / Follow us on Twitter
IMAGE: waywuwei/Flickr