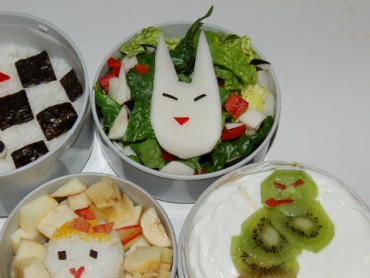 Stop GMOs if you want to give people 'real power'
A movement to bring "real food" to Northwestern University may have less to do with improving nutrition than paying into the coffers of a host of left-wing special-interest groups.
A group of students called Real Food at NU rallied last week to convince the school to buy 20 percent of its dining-hall food from "real" sources by 2020, according to The Daily Northwesterner.
The effort is part of a national organization, the Real Food Challenge, which lists its criteria for real food as "local and community-based," "fair," "ecologically sound" and "humane."
Miranda Cawley, co-director of Real Food at NU, cited the parent organization's criteria for "real food" in an email to The College Fix.
She did not explain how eating real food would benefit students more than what they currently eat, such as by making them healthier. Cawley did not respond to followup requests for explanation.
The movement appears to ignore science-based evidence to judge what food is "real," by disqualifying food that includes genetically modified organisms (GMOs).
The U.S. Food and Drug Administration has said that foods made with genetically engineered plants "are generally as nutritious as foods from comparable traditionally bred plants," and that such plants are no more likely to be toxic or cause allergic reactions than traditional plants.

Katie Blanchard, an organizer for the Real Food Challenge, told The Fix by email her group frowns on food with GMOs because the "vast majority" use pesticides.
That means that "farmers have to depend on intentionally limited growing practices that require products from an equally limited set of companies," Blanchard said.
She added that GMOs "privilege practices that consolidate power in the food system," whereas real food leads to "more people having real power in the food system."
Asked whether schools would end up paying more for food that meets her group's criteria, Blanchard said: "We have never heard of a campus raising meal plan costs because of signing on to the Commitment."
Universities have found "creative ways to integrate more real food into campus dining operations that don't involve raising costs for students," she added, but did not provide examples.
Meal plans already cost too much
The prospect of higher food prices might give pause to Northwestern students, if their nearby counterparts at Loyola University Chicago are any indication.
Students working with the Real Food Challenge lobbied the Catholic school in 2013 to adopt the 20 percent "real food" ratio by 2020, promising that food prices would stay the same, the Loyola Phoenix reported then.
One campus activist said the real-food option would help students "live more nutritiously."
Yet the activists made their push at the same time that meal plan prices were spiking, hitting incoming freshman particularly hard because they were required to buy "unlimited" meal plans, local news outlet DNAInfo.com reported.
The administration blamed the price increase on students' demands for "a lot more from dining services," the Phoenix reported.
According to the Real Food Challenge's page for Loyola, the school only cares about "getting the cheapest thing out there," though its coffee meets the fair-trade designation.
Advisers profit from certification
The Real Food Challenge's real food guide suggests that certifying food as "real" is good business for the organization's advisers and board members.
For example, the organization requires food be certified as "humane" by a number of groups, including the Animal Welfare Institute. Dena Jones, an adviser to the organization, is a manager for the institute.
Food is determined "fair" according to certain labor standards, including those developed by the Coalition of Immokalee Workers, which has previously worked with the Real Food Challenge.
A number of groups, including the Food Alliance, can certify foods as "ecologically sound."
Mark Swenson serves on the board of directors for the Food Alliance, and also works for Bon Appetit Management Co., which is closely affiliated with the Real Food Challenge. Another Bon Appetit executive, Maisie Greenawalt, advises the organization as well.
According to the Real Food Challenge website, some of its advisers are leaders of worker rights groups.
One such adviser, Richard Mandelbaum, the social justice coordinator for the Farmworkers Support Committee, gave a presentation on "food democracy" in 2009 at the Left Forum, a self-described socialist group.
Mandelbaum is also an original founder of the Agricultural Justice Project, one of the designated certifiers of whether or not food is "fair."
In order to be certified as having fair labor practices, the project recommends workers join a worker rights group, such as the Food Chain Workers Alliance.
Others include Joanna Lo of the Food Chain Workers Alliance, a worker rights group backed by the Teamsters among other labor groups.
The University of Vermont, an early adopter of the Real Food Campus Commitment, did not return requests for comment.
College Fix reporter Matt Lamb is a graduate student at the University of Nebraska-Omaha.
Like The College Fix on Facebook / Follow us on Twitter
IMAGE: nadja robot/Flickr
Like The College Fix on Facebook / Follow us on Twitter