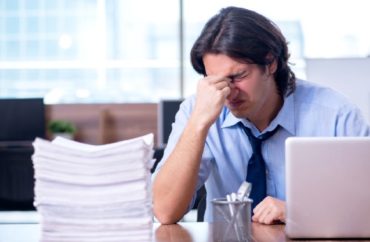 More than half of recent grads 'report emotional or mental health challenges'
A survey conducted by the Mary Christie Institute discovered that recent college graduates are not emotionally prepared for the workforce.
Specifically the survey found that more than half of these young professionals self-reported "emotional or mental health challenges."
"Our findings show that once in the workplace, young people continue to struggle mentally and emotionally," the think tank wrote.
The survey found that 43 percent of those individuals with mental health said they had anxiety while 31 percent reported having depression.
"Women reported worse mental health than men, with 68% of males self-reporting good or excellent mental health, compared to 45% of females," the survey reported.
The College Fix reached out to the think tank for its reaction to the findings of the survey, what the causes and solutions of this issue are and if there is anything that colleges can do to better prepare students for the workforce.
The group has not responded to a request for comment sent in the past week. The Fix also reached out to the National Association of Colleges and Employers, a co-sponsor of the survey, to ask similar questions.
NACE deferred to the original news release.
Survey respondents also reported burnout to be an issue as they enter into the workforce.
Over half of surveyed individuals reported that they feel burnout at least once a week in their careers. The survey defined "burnout" as "a state of prolonged physical and psychological exhaustion, which is perceived as related to the person's work."
MORE: Industry apprenticeships prepare students where colleges fail
Furthermore, almost 40 percent of respondents claimed that college is "not strongly perceived as preparing students emotionally for the workforce."
These respondents believe that their time spent in college did not adequately prepare them to make the "transition" into the workforce.
The unique circumstances that many of these respondents faced – having to deal with the disruptions of COVID-19 on their education and a shift towards virtual learning – may have had a major impact on the concerning results of this survey, the think tank suggested.
A career coach and workforce expert told The Fix that the findings predict negative results for companies and the economy.
"These findings are a stark predictor of continued lack of engagement, low productivity and no loyalty which leads to negative impacts on companies and our economy," Ken Coleman told The Fix in a media statement.
Coleman is an expert within Ramsey Solutions, a personal finance company run by Dave Ramsey, a popular money and life radio host.
"This generation has truly been victimized by the fear campaign of marketers, the media and politicians who have manipulated their grandparents and parents for decades," Coleman told The Fix. "Add in normal doubts and insecurities that come with launching into adulthood and you have the ultimate cocktail of confusion."
Coleman suggested the confusion these young adults feel can often lead to tremendous anxiety about the present and how it will impact their future.
The report concluded that workplaces need to do more to support young individuals and that companies are not helping their racial minority employees enough.
"These findings clearly indicate that early career professionals want more support for their mental health," the survey reported.
The authors wrote that "over half of young professionals indicate they would be interested in gatekeeper training to learn about how to help others if it were offered by their employer."
"Even more importantly, we see from this data that workplace environments are not perceived as particularly welcoming or supportive of diverse employees, specifically BIPOC employees," the think tank wrote. "Many among this population report not feeling part of the community or not having close colleagues; nor do they know where to turn for resources."
MORE: Utah axes degree requirement for 98% of civil servant jobs
IMAGE: Elnur/Shutterstock
Like The College Fix on Facebook / Follow us on Twitter