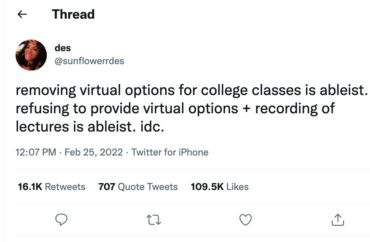 University of North Texas stays quiet in response
The University of North Texas has not responded to a petition signed by nearly 4,900 people demanding online class options for all students due to COVID health and safety concerns.
UNT student Hannah Larson submitted the Change.org petition in January addressed to the "executive assistant to the president" demanding online class offerings for all students.
In a tweet she quoted on February 28, Larson cited a claim that "removing virtual options for college classes is ableist," and "refusing to provide virtual options + recording of lectures is ableist."
@UNTPrez @UNTsocial @DrMRWilliams @UNT_IDEA https://t.co/9JdpibuEKI

— hannah ☻ (rage era) (@hannahschaos) March 1, 2022
"UNT students and faculty should have the option to attend all classes online," the petition title states. The petition goes on to request that all students and faculty be given the opportunity to attend all classes remotely, via "access to a Zoom link" – an accommodation the university already provides to students who have tested positive for COVID.
The signatories do not seek a moratorium on in-person classes, but simply online class options for those who fear for their health.
"A good amount of our student body is immunocompromised or has other reasons that affect their ability to feel safe while attending in-person classes," the petition states. "By forcing us to attend in person, the university is not considering our health or our lives."
The petition goes on to cite the case of Helen Etuk, a student with a pre-existing condition who passed away after contracting COVID following the school's return to in-person classes.
"Her mother said that even though Ms. Etuk had worn a mask and had tried to maintain distance from other people, she developed a bad cough that turned out to be a symptom of Covid-19," The New York Times reported.
"In the past, UNT charged us a $200 fee for going online," Larson told the Denton Record-Chronicle. "So they have shown that this is something that can be accomplished, and the infrastructure is already there."
As of March 9, 4,820 people had signed the petition, putting it just 180 signatures under its goal of 5,000 signatories, which would give the petition a greater chance of receiving media attention, according to Change.org. Signatories include Deborah Armintor, a Denton City councilwoman who is also a professor at UNT. Armintor said that she was "concerned for the health of [her] students, UNT staff, [and] the greater community," in a comment posted to the petition.
Ashleigh Reis also signed the petition, commenting, "As an untenured faculty member….I can't speak up for fear of getting fired. You are doing a service to so many of us."
The College Fix reached out twice to Jim Berscheidt, a UNT spokesman, asking if the administration had met with or responded to the students, and what online options UNT offered for concerned students.
Additionally, The Fix contacted Hannah Larson, petition organizer, via Twitter twice to ask for general comments, but she also has not responded in several weeks.
UNT currently offers 1,628 online courses and 86 online program options, according to its webpage.
Online program offerings include bachelor's, master's, and doctoral degree options as well as undergraduate and graduate certificates. Students have the option to take courses fully or partially online at both the Denton and Frisco campuses, the website states.
MORE: Students petition to reverse Montclair State University's COVID vaccine mandate
IMAGE: @sunflowerrdes
Like The College Fix on Facebook / Follow us on Twitter