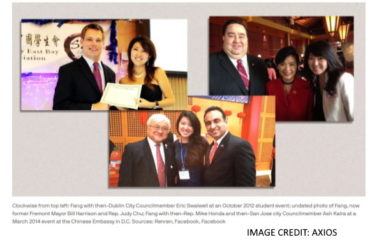 A former female California State University East Bay student is at the center of a sordid national spying scandal first reported by Axios on Monday.
According to Axios, a Chinese operative named Fang Fang, or Christine Fang, first enrolled at CSUEB in 2011, when she was in her late 20s or early 30s. From there, Fang used her position to gain access to a number of California politicians, including Democratic U.S. Congressman Eric Swalwell.
At CSEB, Fang served as the president of the school's Chinese Student Association and president of the campus chapter of Asian Pacific Islander American Public Affairs, which Axios calls "a national organization that encourages Asian Americans to get involved in civic affairs."
"She used those positions as her initial platform to gain access to political circles," writes Axios. "She frequently invited political figures, business executives, and Chinese consular officials to attend the flurry of high-profile events she organized over a period of several years, according to current and former local officials, former students, Bay Area politicos, and social media activity."
The report details Fang's intricate web in which she oversaw "unwitting subagents" whom she helped get jobs in political offices around America.
As part of her operation, Fang "engaged in sexual or romantic relationships with at least two mayors of Midwestern cities over a period of about three years," according to the report. Two of the sexual encounters with elected officials were caught on FBI electronic surveillance.
Counterintelligence officers interviewed by Axios believe Fang was directed by the Ministry of State Security (MSS), China's primary civilian spy agency. In 2015, Fang abruptly left the U.S. and returned to China, cutting off all ties to her contacts in America. The FBI believes she has not returned.
The Axios report notes a number of reasons the Chinese government may target California's Bay Area for espionage – most notably because of the number of national politicians that emanate from the area. For instance, the current U.S. Vice President-elect, the Speaker of the House, and the California governor all hail from San Francisco.
Further, Northern California has a large Asian population, so agents fit in and move around easily, and the close proximity to Silicon Valley makes the temptation to steal technology very attractive.
But the area also hosts a number of high-profile universities where Chinese agents can grow roots in the community. Just this week, The College Fix found research done at Stanford University has been obtained by companies working with the Chinese Communist Party to suppress ethnic minorities in that country. Since 2014, Stanford has accepted $64 million in funds from China-based sources.
Read the full Axios report here.
MORE: Stanford accepts $58 million in Chinese cash while pushing global human rights
IMAGE: Axios
Like The College Fix on Facebook / Follow us on Twitter