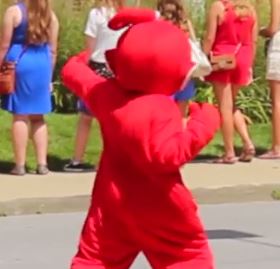 Total Frat Move reports that University of Missouri administrators are going way overboard in their quest to ensure Title IX compliance.
The following video got the fraternity Delta Tau Delta dragged before the new campus Title IX Czar for a bit of an inquisition, the website reports.
TeleTubby Recruitment from Delta Tau Delta Mizzou on Vimeo.
Total Frat Moves goes on to report that "due to the fact that Mizzou's Title IX coordinator has common sense and eyeballs, nothing in the video was determined to be harassment and Delt was let off scot-free." But it adds this bit of analysis:
Harassment, however, was one of the big themes of this year's sorority rush at Mizzou, though it wasn't so much sexual harassment as it was fraternity guys being harassed by PHA members, Pi Chis (recruitment counselors), and the Greek Life office for potentially, possibly, maybe, kind of but not really at all sexually harassing the girls going through recruitment. Throughout the week, fraternity members who were simply standing on their lawns, talking to other members of their own fraternity, and otherwise hanging out, were berated and yelled at until they cleared out of their own property.
Like The College Fix on Facebook / Follow us on Twitter