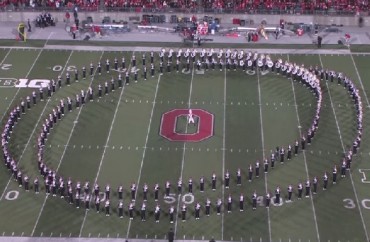 Secret songs further sully band's once stellar reputation
A new report reveals a black book of parody songs by Ohio State University's marching band that includes an anti-Semitic song with jokes referencing the holocaust and Nazi concentration camps, as well as other songs that include graphic sex jokes.
The anti-Semitic song "Goodbye Kramer" – disclosed Thursday by The Wall Street Journal – includes lyrics to the tune of Journey's classic hit Don't Stop Believin' with a line where Nazi soldiers search "for people livin' in their neighbor's attic" and a "small town Jew…who took the cattle train to you know where."
"Head to the furnace room, 'Bout to meet your fiery doom," another line of the song reads. "Oh the baking never ends, it goes on and on and on and on."
The songbook, most recently updated in 2012, was secretly circulated by band members and came to light in the wake of a 2014 university investigation into then director Jon Waters and the band's questionable culture, the Journal reports. But Waters, band members, and alumni claim the songbook was long out of circulation.
"Some of these [songs] may be offensive to you. If so, you can either ignore them, or you can suck it up, act like you got a pair and have a good time singing them," the book's introduction reads.
"Take it with you on trips and to parties. But never leave this out of your sight," it adds. "This book is for OSUMB members only, Past and Present."
Ohio State, in a statement to the Journal, said the songbook represents "shocking behavior" the school is "committed to eradicating from its marching band program."
Another song reviewed by the Journal about the Nebraska Cornhuskers, also in the Big Ten Conference, reveals lyrics about rape, erotic sex and homosexuality.
"Nebraska got f—– in their cornholes" and "It'll soften our d—- if there's chicks in the mix," one song reads, while another says: "There's no place as gay as Nebraska, except maybe Michigan U. Where the girls are all hairy, and the boys are all fairies, on your chest we will poo."
Matt Cominski, a former Ohio State band member who wrote one of the controversial Nebraska songs, said he had "a lot of confidence that it was never going to see the light of day."
"I knew a lot of people in the band were gay and they knew I wasn't being serious," Cominski told the Journal. "If I were writing to a broader audience or anyone other than a few close friends I would be horrified by those words."
Jon Woods, who was band director when the songbook was updated in 2012, was unable to be reached for comment, but Waters, who was formerly his assistant and succeeded Woods, said he "understood it to be gone."
"It had been outlawed for a long, long time and was something that was very much on the underground."
"If something like that exists, that's disgusting," Waters added. "I never saw anything like that."
Waters was fired in 2014 as director of what some call "the Best Damn Band in the Land" after an internal investigation found he had ignored the "sexualized culture" amongst the band, but filed a lawsuit claiming wrongful termination and defamation.
"They took 50 years of college behavior and silliness and tradition and put it all on me," Waters said earlier this summer. "I was the culture reformer."
Ohio State officials told the Journal it is in the process of reforming its school's band culture.
Like The College Fix on Facebook / Follow us on Twitter
IMAGE: YouTube screenshot