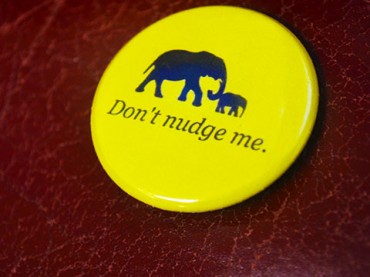 Schools are shelling out for costly feel-good initiatives that have little impact
NEW YORK – A new campaign by the National Association of Scholars can be boiled down to a message that fits on a button: "Don't nudge me."
The right-leaning academic group released a 260-page report on the new branding of campus environmentalism, along with the "nudge" buttons, at a press conference near the United Nations headquarters Wednesday.
Journalist John Stossel, a high-profile critic of environmental alarmism, was among attendees at the event, cosponsored by the American Enterprise Institute and U.K.-based magazine Spiked.
Sustainability: Higher Education's New Fundamentalism, written by NAS President Peter Wood and Research Associate Rachelle Peterson, argues that "sustainability" is deployed on campus to stifle debate on environmental initiatives and campus priorities.
The buzzword goes far beyond protecting natural resources and ecosystem viability, to manipulating students' thoughts and draining college budgets at a time when tuition rates are jumping, the report says.
Nudging students to stop thinking and do what they're told
The sustainability movement – endorsed by nearly 700 college presidents and chancellors – infiltrates students' collective subconscious in order to give them "Pavlovian responses" in accordance with "partisan ideology," Peterson told the event.
One example is Yale University's "nudge" initiative, which encourages the "shaming" of peers for not behaving sustainably and leads to daily nuisances such as trayless cafeterias and bans on the sale of bottled water.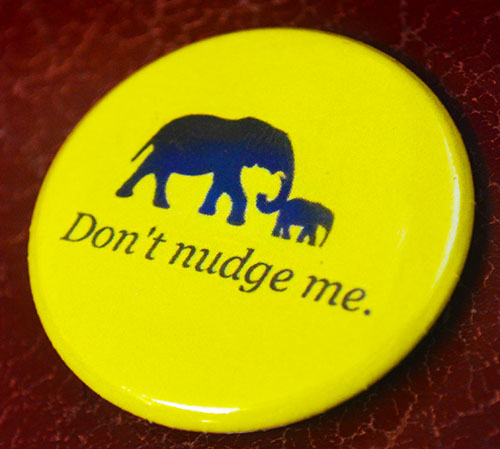 Such provisions, Peterson said, "won't do much" to reduce greenhouse gas emissions or mitigate "anthropogenic" climate change, but they lead to students to operate on presuppositions rather than researched facts, which is "alarming" and illiberal.
Self-identified sustainable colleges are also pushing the message into curricula where it has no relevance, such as English, math and art history – "bypassing the usual intellectual debates by which a college shapes its courses," the report's FAQ section says.
By telling students that debate is over on the extent of and long-term effects from climate change, sustainability departments "treat activism as scholarship" and "rob students of the opportunity to examine the evidence for themselves."
The report cites figures from the Association for the Advancement of Sustainability in Higher Education that 475 campuses in 65 states and provinces offer a total of 1,438 sustainability programs.
The FAQ section warns that schools teach students that skepticism about "global warming's potential catastrophic slide" is tantamount to "'denialism' – a term intentionally harkening back to Holocaust deniers."
An attack on sound investment principles
The push to make schools sustainable has a painfully large "economic footprint" as well, Peterson told the event.
The report conservatively estimates that sustainable colleges spend $3.4 billion a year on that effort, based on an extrapolation of the $3.7 million "net cost" to Middlebury College, a small liberal arts school in Vermont.
The movement also seeks to harm colleges' bottom lines by attacking their endowment investments in fossil fuels, the report says.
It says divestment is "politically motivated" and has a "negligible effect" on those fossil-fuel companies while aiming to deprive emerging economics of "reliable, inexpensive energy."
Divestment pushes are "educationally destructive" and teach students to avoid debate and a "careful examination of the facts," it says.
While students at sustainable colleges are "technically free to choose" how they consume, Peterson said, the schools' long-term plan is to indoctrinate them with the idea that government-enforced sustainability initiatives are noble and correct.
One aspect of nudging, dubbed the Precautionary Principle, operates something like an "eco-centric Pascal's Wager." That means that government policies operate on an Armageddon-like assumption that the worst will happen without heavy regulatory intervention.
The very language of sustainability lends itself to dogmatism and a borderline eschatological pathos, Wood told the attendees.
It's important to challenge the movement's influence among young people, because higher education is the "pivot point" for their intellectual development, Wood said.
College Fix reporter Micah Fleck is a student at Columbia University.
Like The College Fix on Facebook / Follow us on Twitter
IMAGES: Micah Fleck