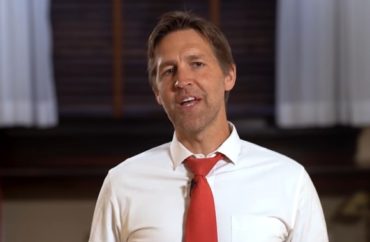 Also for 'implying that our graduates are fat and lazy' because they didn't climb ropes
The truth hurts for Chris Janicek.
Perhaps forgetting he's in Nebraska and not New York, the Democrat challenging Sen. Ben Sasse in November's election called the Republican "beyond reprehensible" for using his Saturday graduation speech to "blame China for the [coronavirus] pandemic," the Omaha World-Herald reports.
Sasse gave a joke-filled address to graduating seniors at Fremont High School, his alma mater, drawing jeers from not only his political opponent but also a school board member, Michael Petersen.
He joked that his generation is healthier because of they were forced to climbed ropes in gym class, and that psychologists' main job is helping people "forget high school." Sasse hit current pop-culture obsessions such as "murder hornets" and the documentary "Tiger King," and strangely claimed that "everybody named Jeremy is the worst."
But the jab that led Petersen to accuse him of "racism" was more serious. Sasse noted graduates would remember this commencement because of "that time when China started a big global pandemic that created the worst public health crisis in over a century," and America would "have a serious reckoning with the thugs in China who let this mess spiral out of control by lying about it."
Janicek professed astonishment that Sasse was "[r]idiculing mental health care specialists, suggesting that the graduates are lazy slackers and using the platform to blame China for the pandemic we have now," which is "beyond reprehensible."
"You deserved better" than Sasse's remarks, school board member Peterson wrote on Facebook:
The racism, implying that our graduates are fat and lazy, disparaging teachers, and attacking the mental health profession are despicable. You [Sasse] owe the graduating students of Fremont High an apology.
MORE: UCLA Law publicly shames professor for un-PC comments on COVID-19
Sasse's spokesperson professed equal astonishment that "some politically addicted folks are complaining about Ben calling out China in a joke. … Pretending graduates are too fragile to hear the truth is silly." The spokesperson noted Sasse's criticism of the "Chinese Communist Party" for its "coronavirus coverup" is not new.
As for the jokes about graduates, Sasse also said "he believes their generation is tough enough to help lead us through the bumpy economic times ahead."
Unlike the World-Herald, the Associated Press highlighted Sasse's praise of graduates:
Nobody knows exactly how we're going to beat this thing, but you know what, we're Americans, we're Nebraskans, we've got grit and we're going to beat this thing. We will bring the economy back. We are going to beat the virus.
The school district, meanwhile, told the public to complain to Sasse if they didn't like his speech, rather than expecting administrators to "edit or censor guest speakers."
Read the World-Herald and AP reports.
MORE: Why does my alma mater UW-Madison glorify China?
IMAGE: #fpstigerpride/YouTube
Like The College Fix on Facebook / Follow us on Twitter