Asian student group refuses to specify 'material harm' professor allegedly caused
UCLA's law school is refusing to answer College Fix queries about its history of publicly shaming faculty after Dean Jennifer Mnookin denounced two professors for politically incorrect comments last week.
Stephen Bainbridge, a corporate law expert, already apologized for musing whether one of his Chinese students might have unintentionally infected him with the novel coronavirus when returning from China after winter break.
First Amendment expert Eugene Volokh, in contrast, explicitly refused to apologize for quoting the word "nigger" in a class discussion on relevant case law and then recounting the incident to a colleague.
It's not clear whether the law school's actions against either professor, or faculty at large, will go beyond the dean's criticism of Bainbridge and Volokh (left and right, above).
Mnookin promised the community that "our school's response to these incidents will not end with this email," which was sent April 14 and posted publicly the next day. She also reminded the community that the Committee on Equity, Diversity and Inclusion was already developing "curriculum, teaching tools, and programming" to make the community more "inclusive."
The Fix asked both the dean and a law school spokesperson what actions Bainbridge may have faced if he refused to apologize. Mnookin did not respond to Fix queries, and a spokesperson declined to answer.
Volokh declined to comment on Mnookin's email to the community, telling The Fix that his personal connection made him "too involved in this particular controversy to speak helpfully."
Asked whether his apology was prompted by internal pressure, Bainbridge (below) told The Fix that "at no time did any member of the administration at the law school or university make any requests, orders, or threats related to this incident."
He continued in the email: "My response was purely voluntary, motivated by genuine regret that I had offended the students."
A student group that claimed Bainbridge caused "material harm," meanwhile, declined to elaborate on that claim when asked by The Fix.
MORE: UCLA Law apologizies for Volokh accurately teaching class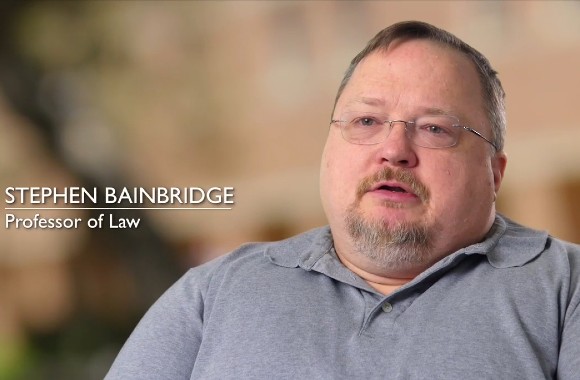 If you're sorry, give $1,100 to anti-hate group
Bainbridge has publicly shared his belief that he couldn't get hired as a professor now because of requirements that he show his "contributions to diversity." In December he posted the unconventional diversity statement he submitted for his "merit raise" application at UCLA Law.
He has since deleted his April 6 tweet thread on the novel coronavirus, along with his Twitter account, though the thread has been preserved by critical publishers.
Commenting on a news report that antibody tests for COVID-19 would soon be available, Bainbridge recounted going through "a horrific cold/flu in late January/early February that I assumed was a bad case of bronchitis."
He then noted that he has "a number of Chinese students" this semester, and pondered "if one of them might have brought the virus back from China." Bainbridge linked to an NPR report from February on how the University of Illinois at Urbana-Champaign was responding to its returning  Chinese students.
However, "I assume" none of them gave him the coronavirus "because I know of nobody else at the law Schoo [sic] who got sick," Bainbridge concluded. "[B]ut still… One wonders."
Despite saying it was unlikely a Chinese student infected him, Bainbridge's tweets still garnered backlash from some students.
The law school's Asian/Pacific Islander Law Students Association condemned the tweet thread as "irresponsibly perpetuat[ing] xenophobic stereotypes" in an open letter on April 13.
APILSA referenced Bainbridge's April 10 tweeted apology to UCLA Law student Alton Wang, who had also criticized him for an earlier tweet about people in China "eating bats, civets, and other wild animals that serve as viral hosts."
MORE: Bainbridge submits conservative diversity statement
A Twitter interaction with a racist UCLA Law professor @ProfBainbridge, in parts:

1: He claims that he got sick, possibly of COVID, because of a Chinese student in his class
2: He employs racist stereotypes about Chinese food and culture
3: I tweet back at him
4: He blocks me pic.twitter.com/Qb5AdmmmJp

— 𝗔𝗹𝘁𝗼𝗻 𝗪𝗮𝗻𝗴 (@altonwang) April 10, 2020
The left-wing Asian American media outlet Reappropriate joined the tweet conversation with Bainbridge and Wang, asking about the professor's intentions. He responded that he was "shooting from the hip" in his offending tweets:
I was not thinking about how it might contribute to the negative racial climate to which you correctly avert [sic]. It was a mistake and one I regret wholeheartedly.

I have deleted the offending tweets. I very much regret them and apologize sincerely.
APILSA refused to accept that April 10 apology and called on Bainbridge to consider donating $1,100 to an Asian anti-hate organization, "for every [Asian/Pacific Islander] victim of a reported hate crime" from March 19 through April 3.
In addition, the group called on him to attend an online forum on student grievances regarding xenophobia. It said 15 minutes would be allotted "to turn to the specific harm" that Bainbridge "caused students."
APILSA called on Dean Mnookin (below) to attend this forum and answer questions about "the school's failure to address the xenophobia sparked by COVID-19 thus far." (It's working with the dean to schedule the forum, according to an April 17 tweet.)
The group also encouraged Mnookin to "denounce" Bainbridge's tweets, which caused "material harm to the API community at UCLA law." Asked by The Fix to specify that "material harm," an APILSA spokesperson demurred in an email:
We have proceeded to have private conversations with Professor Bainbridge as an organization, and are moving on from our letter with next steps, so we're not sure how newsworthy or factually relevant those events are anymore.
In a statement the next day, APILSA thanked Bainbridge for his apology on his own blog but also asked its readers to "evaluate for yourself whether this constitutes sufficient redress for the harm that you experienced as an individual."
The group also stressed that it didn't ask Bainbridge to delete his Twitter account: "we want to continue the conversation, not end it." It further implied that UCLA Law must create "standards for cultural competency and professionalism."
MORE: University official says COVID might have originated in U.S.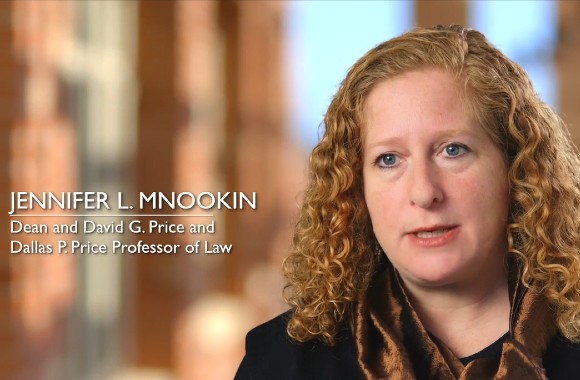 'Extramural remarks do not lose their protection under the First Amendment'
Mnookin emailed the community the day after the APILSA letter calling on her to denounce Bainbridge, echoing its language.
His tweets "mirrored xenophobic speculation" and were "offensive and harmful" to the Asian-Pacific Islander community at UCLA, she wrote, using variations of the word "harm" three times.
She also apologized for the "wounds" caused by Volokh (below), the First Amendment law professor, for accurately quoting the details of a court case involving the word "nigger." (Volokh later wrote an essay defending his pedagogical use of the word.)
"While he has the right to make that choice as a matter of academic freedom and First Amendment rights … many of us – myself included – strongly believe that he could achieve his learning goals more effectively and empathetically without repeating the word itself," Mnookin wrote, saying that Volokh "hurt[s]" people when he references slurs "for pedagogical purposes."
MORE: Black law prof denounces 'farce' of punishing faculty for quoting n-word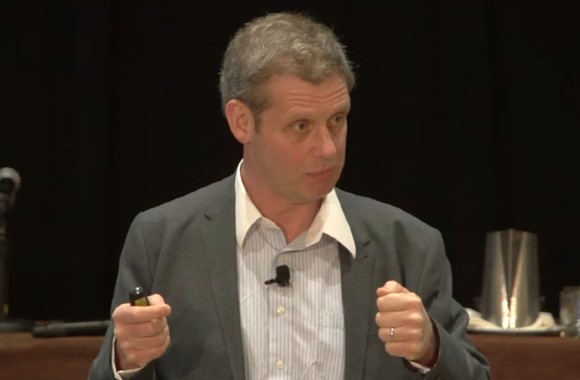 She apologized for "the pain and offense the use of this word has caused," and praised a flowchart produced by the UCLA Black Law Students Association (below). It claims that only "black or mixed with black" people can say the n-word, while anyone who is not, "even if you are a law professor," cannot.
Asked for a list of previous incidents where either Mnookin or her predecessors have publicly denounced a professor's speech, Director of Media Relations Kathy Wyer declined to provide one.
She said Mnookin's statement to the community, which claimed the Bainbridge and Volokh incidents were inseparable from "dynamics of privilege and difference," would be the law school's only comment.
Bainbridge's remarks did not in any way constitute "unprotected harassment," and they "remain protected by the First Amendment, which UCLA must respect as a public university," a First Amendment activist told The Fix.
Should UCLA take issue with any speech it finds offensive, officials "can criticize and find other ways to take a 'more speech' response to speech," Adam Steinbaugh, director of the Individual Rights Defense Program at the Foundation for Individual Rights in Education, wrote in an email.
But a faculty member's "extramural remarks do not lose their protection under the First Amendment solely because they offend others," he concluded.
MORE: Law dean denounces professor for quoting Supreme Court
IMAGES: UCLA School of Law/YouTube, ReasonTV/YouTube
Like The College Fix on Facebook / Follow us on Twitter