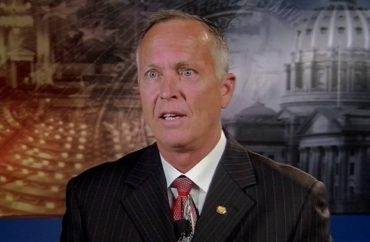 'Prioritizing money over kids'
Republicans are typically champions of school choice, such as taxpayer-funded charter schools that compete with traditional public schools.
Not the chairman of Pennsylvania's House Education Committee, however.
Rep. Curt Sonney introduced a bill (HB 1897) that would shutter the state's "cyber charter" schools, authorized by Pennsylvania in 2002 and open to any child in the state, as independent school entities.
In order to continue offering online education, they would have to apply to be "third-party vendors" for school districts, which would be required to offer online education under Sonney's bill.
Reason reports that the bill, introduced last fall, is "working its way through" the House this month, and it has school choice advocates up in arms:
"It would force parents and students to go back to the districts that have already failed them," says Ana Myers, executive director of the Pennsylvania Coalition of Public Charter Schools, which lobbies on behalf of both brick-and-mortar and cyber charters. …

Pennsylvania legalized charter schools in 1997, and cyber charters followed in 2004. Now roughly one out of every 11 public school students in Pennsylvania attends a charter school. In Philadelphia, the state's biggest school district, charter schools now educate more than a third of the city's students—with 30,000 more on waiting lists. Cyber charters account for about 20 percent of overall charter school enrollment; because brick-and-mortar charters are clustered mostly in the cities and densely populated suburbs, cyber charters are the only available charter school option in many parts of Pennsylvania.
Sonney (above) claims that he's responding to constituents who "constantly" share their concerns about "the cost and accountability of cyber charter schools," which serve 35,000 students. The state-authorized cyber charters must be subject to "local accountability" in order to "control the quality and cost of these programs."
MORE: Calif. teachers union spent $4 million in six months to cripple charters
That's bunk, parent Stefaine D'Amico told Reason. Her three kids attend a cyber charter, including Bobby, who's about to graduate high school and head to college to study filmmaking. She pulled him from his traditional middle school nearly six years ago because of bullying that the Marple-Newtown School District seemed unable to stop.
School districts get to keep the state portion of per-pupil money when a student leaves for a charter school, which Reason pegs around 30 percent statewide (it varies by district).
It's already expensive for charter schools to fight for the money they're owed from school districts when students transfer. That's because Democratic Gov. Tom Wolf issued an executive order last year requiring charter schools to pay administrative costs when the Department of Education has to mediate a funding dispute.
There were 13,000 disputes in the 2018-2019 school year, and the free-market Commonwealth Fund obtained state records showing that charters won "every single one" of those disputes.
"That leaves an obvious conclusion: School districts are deliberately shortchanging charter schools," Reason says:
"Making charter schools pay when school districts break the law isn't about 'fairness' or 'accountability' or any of the other slogans the Wolf administration uses," says Nathan Benefield, vice president of the Commonwealth Foundation. "By favoring one type of public school over another, Gov. Wolf is working to undermine parental choice—prioritizing money over kids."
Thanks to bipartisanship, Pennsylvania families may soon have fewer options to affordably obtain a good education for their children.
Read the bill and the article, which details more of Gov. Wolf's anti-charter proposals.
MORE: Black students, English learners do far better in charters
IMAGE: RepSonney/YouTube
Like The College Fix on Facebook / Follow us on Twitter