A conference held Saturday at the University of Edinburgh has been criticized for a policy that banned white people from asking questions.
The "safer spaces" policy for the "Resisting Whiteness 2019: Anti-racist action in the UK" event that was spelled out on its website stated under "audience questions" that:
This conference is designed to give people of colour a platform to talk about their experiences and expertise in the context of anti-racist organising and resistance of oppression. Because we want to amplify the voices of people of colour, priority will be given to questions from people of colour in the audience. If you are a white person in the audience and you still have a question after the panel has ended, please feel free to share your questions with a member of the committee or our speakers then.
Another "safer spaces" policy stated that a room only for people of color would be provided:
We will have two rooms available for anyone who needs to remove themselves from the conference because they're feeling overwhelmed/overstimulated or uncomfortable, or because they just need some time to calm down and relax in a quiet environment. The Braid room is a safe space for only people of colour, and the Cheviot room is available for anyone who needs it. Please be mindful in these spaces that anyone else using it may not want to talk.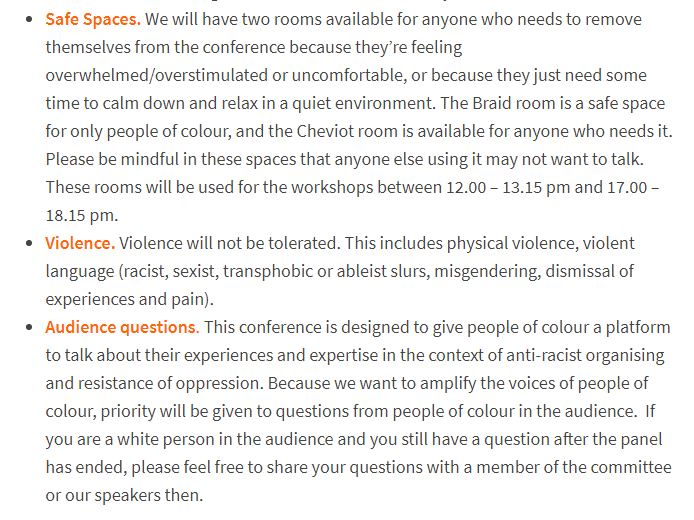 As reported by The Telegraph, the conference at the historic English university aimed to "amplify the voices of people of color."
But after criticism, a spokesperson for the university told the news outlet they had "expressed" concerns to organizers "about certain aspects of the format of the event and they are revising their 'safe space' policy for the conference as a result."
However as of Monday the "safer spaces" policy does not appear altered or edited on the event's website, according to the screenshot above taken by The College Fix.
MORE: Whites Not Welcome In Diversity Zone?
MORE: University hosts no-whites-allowed faculty and staff listening sessions
Like The College Fix on Facebook / Follow us on Twitter