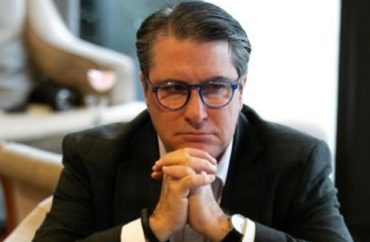 Notre Dame political scientist says the 'party of order' must regain power
Universities should equip students with a trade skill as part of their education, according to a University of Notre Dame political scientist.
Professor Patrick Deneen recently gave a speech on the "future of liberalism" at the Catholic University of America. The Intercollegiate Studies Institute sponsored the May 17 event and The College Fix attended the speech and interviewed attendees.
Professor Deneen (pictured) also wrote a new book called "Regime Change: Toward a Postliberal Future."
Deenen said in his presentation that in the "modern world" there are two political parties – the "party of order" and the "party of progress."
The "party of progress" has created an American society of "rapid change" that not only fostered "disorder [and] instability" but also caused a "decline of norms and customs," Deneen said.
To remedy the situation, Deenen said the "party of order" needs to replace the "party of progress."
Being a professor, Deenen gave suggestions on how to implement this "party of order" at the university level.
Deenen said colleges and universities need to increase their opportunities for students to study and develop "urban trades" and suggested they could require students to learn a trade in order to graduate.
This was generally greeted with approval from the crowd — one individual even reacted and said it was a "good idea."
Students differ on feasibility of trade education in college
The Fix spoke via text message after the event to some students who had differing views on the suggestion.
"Most majors, you could probably associate a trade with the major that the university can require, but I don't think it's a [one-size-fits-all] approach," Jesse Hughes, a history and pre-law major at Liberty University, told The Fix.
"The entire idea of the liberal arts [is] to teach students how to prudently use their own liberty, which today they clearly do not. As amusing as it would be requiring trade training, [it] does not address this failure," Nick Clifford, a law student at Indiana University, told The Fix.
PJ Butler, a University of Notre Dame senior theology and political science major, said that whether learning a trade is required to graduate or not "students across the board should graduate with a set of useful skills that prepare them to be functional members of society."
Degrees used to be a guaranteed means toward achieving a job but now "many universities are conferring essentially useless and overpriced degrees," Butler said.
Isaac Kantola at Liberty University told The Fix "it would be helpful for students to have a skill upon which they could fall back in order to make some money, in case job prospects with their career don't turn out well."
Clifford, the law student, agreed, adding he has "several friends who completed their bachelors degrees and after an agonizing period in recruiting hell are now getting trade certifications."
MORE: Catholic trade college launches – 'earn a degree' and graduate debt-free
IMAGE: Patrick Deneen/Twitter
Like The College Fix on Facebook / Follow us on Twitter