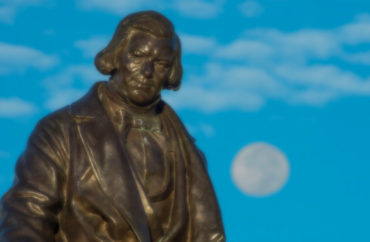 Rice University has announced a plan to move a statue of founder and former slave owner William Marsh Rice from the center of a heavily-used courtyard to a spot near the edges of the lawn.
The school's Board of Trustees announced the move in late January, following a June 2021 report by a Task Force on Slavery, Segregation and Racial Injustice. Further, in late November, the Student Association unanimously passed a resolution urging relocation of the founder's statue.
"After extensive research and a thorough consultation process with the Rice community, the decision to re envision the Academic Quadrangle to better reflect Rice's history, values and where we are today as an institution is a sound one," incoming school president and current Provost Reginald DesRoches wrote in an email to the school newspaper. "I support this decision and am extremely appreciative of everyone who provided information and input throughout this process."
The statue's new location will also include more information about Rice's slaveholding past.
"I'm tired of passing by tour groups and seeing them pass by the statue, and they're just taking pictures," Student Association president Kendall Vining told the paper. "There's a chance that they have no idea that this guy owned slaves. It's not said [on the statue], which makes it seem like it's being hidden from people. I am glad that they are going to include some sort of information that identifies that this person who was our founder also was a slave owner."
Rice moved from Massachusetts to Houston and quickly became wealthy. In 1891, he founded the university, which banned black students. During this time, he also owned 15 slaves. According to the Texas State Historical Association, Rice was killed in 1900 by his valet who plotted to steal his wealth.
University President David Leebron told the Houston Chronicle the move will make campus more welcoming for more students.
"This new vision for the academic quadrangle will reflect our growth and progress as a university and community," said Leebron. "The on-campus discussions that informed the board's decision were guided by a spirit of creating a stronger, more inclusive Rice, as we recognize both the flaws and progress in our history."
But some are not pleased the statue will still be allowed to stand on campus.
"Why is an object having so much control over what we decide is going to represent our campus? I feel like that's just not appropriate," Vining told the school paper. "There are many ways to maintain history via documents, museum exhibits, etc. I feel like having a big statue that students are almost forced to pass by … is not in any way necessary to preserve history. [It's] something I totally disagree with."
Read more here.
MORE: Black students at Rice University demand segregated campus 'Black House'
IMAGE: Rice University
Like The College Fix on Facebook / Follow us on Twitter