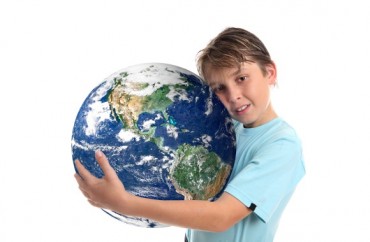 A professor at Rice University believes rising global temperatures are a good thing in that they could assist in alleviating the scourge of racism.
Writing at NBC.com, Scott Solomon says as the temperature rises, "massive migrations" will take place with the ultimate outcome a being "blending" of Earth's races.
"These migrations will erode the geographic barriers that once separated human populations," Solomon writes. "In fact, this process is already underway. As of 2017, 258 million people were living in a country other than the one they were born in — an increase of 49 percent since 2000."
If there was anything to get people to favor a rise in the mercury (outside of Richard Spencer and Louis Farrakhan and the like), wouldn't this be it?
Skin color differences came about a result of natural selection in different human populations. The pigment eumelanin makes skin darker, which helps protect against harsh sunlight. But too much eumelanin can make it hard for the body to produce vitamin D, which is needed to build healthy bones. So over many thousands of years, human populations evolved varying levels of skin pigmentation as they spread across the globe, with natural selection balancing the cost of having too much eumelanin (which can indirectly cause bone deformities) versus having too little (which can lead to cancer and birth defects).

As a result, skin color came to closely match the intensity of sunlight in different regions — darker near the equator and lighter near the poles.

But in today's world, with sunscreen and vitamin supplements, natural selection is less relevant to ongoing changes in human skin pigmentation than gene flow. Because skin color is controlled by many genes, parents whose skin color differs tend to have children with intermediate skin tones. And so in five to 10 generations (125 to 250 years), we may see fewer people with dark skin or pale skin and more with a brown or olive complexion. Having both dark skin and light eyes may become more common.

Blending of races is already well underway in ethnically diverse countries like Brazil, Singapore and the U.S. A Pew report from 2017 found that the number of multiracial births in the U.S. rose from 1 percent in 1970 to 10 percent in 2013. And the increase will continue — the multiracial population is projected to grow by 174 percent over the next four decades.
"As people around the world become more physically similar to one another," Solomon concludes, "it's possible that racism might slowly fade."
MORE: Prof: Cripple the economy to save planet from global warming
MORE: Prof's research concludes global warming will not destroy Earth
Like The College Fix on Facebook / Follow us on Twitter