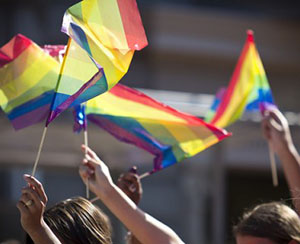 Chances are you've seen news coverage of The Princeton Review's new rankings for colleges in dozens of categories, released two weeks ago, or perhaps a college bragging about its high placement. The test-preparation and admissions consulting company, which isn't affiliated with Princeton University, bases its rankings on surveys of 130,000 students at 379 "top colleges."
Categories run the gamut from best college library (University of Chicago) and best college dorms (Washington University) to most conservative students (Texas A&M) and most liberal (Sarah Lawrence).
The rankings also measure campuses for how "LGBT-Friendly" they are. Stanford gets the top spot in that category.
What you might have missed is a similar list of the most LGBT-friendly campuses in America, released on Friday by the LGBT college network Campus Pride.
This may surprise you, depending on how credulous you are when it comes to rankings of any kind that purport to be objective: There's barely any overlap between the two lists.
Student Surveys vs. 'LGBT Experts'
Our friends at Campus Reform have a quick list of the top 20 LGBT-friendly campuses from The Princeton Review (whose own site requires visitors to hand over reams of personal information to see the full rankings).
The LGBT friendliness of campuses on The Princeton Review list is based on a single question: "Do students, faculty, and administrators at your college treat all persons equally regardless of their sexual orientations and gender identity/expression?"
The Campus Pride list, in contrast, "is based on the final responses to the Campus Pride Index, a national benchmarking tool which self-assesses LGBT-friendly policies, programs and practices," its website says. It distinguishes itself from the competition:
Unlike the Princeton Review LGBT rankings, the Campus Pride Index is based in research on policy, program and practice and is conducted "for and by" LGBT experts in the field of higher education.
In theory, the Campus Pride list – 50 schools in no particular order of "friendliness" – could include every school on The Princeton Review list, which ranks only the top 20.
What's surprising is there are exactly four schools that show up on both lists:  Macalester College in Minnesota;  Oberlin College in Ohio;  Warren Wilson College in Asheville, N.C. (a gay mecca of the South);  and Yale in Connecticut.
The Princeton Review list leans toward small private liberal arts schools, with 16 that don't appear on the Campus Pride list: Bard, Bryn Mawr, Carleton, Emerson, Olin College of Engineering, Grinnell, New College of Florida, New York University, Pitzer, Prescott, Rice, Sarah Lawrence, Smith, Stanford, University of Wisconsin-Madison and Vassar.
Campus Pride is dominated by public universities but has nearly as many private schools as The Princeton Review, with Amherst, Augsburg, Brown, Connecticut College, Cornell, Dartmouth, Emory, Harvard and Ithaca just in the first half of the alphabet.
Again – four schools are on both lists. Even their collections of private schools are nearly distinct.
Why the giant discrepancy? Is this really just about students ranking their schools differently based on a vague question ("treat all persons equally") than "LGBT experts" in higher education who have more enlightened insight? Or is the notion of objective college rankings simply ridiculous in the first place? The cynic would say "these are just marketing gimmicks."
Perhaps friendliness to sexual minorities is in the eye of the beholder.
'Just Another Open-Minded Gay Man'
One of the most remarkable and readable memoirs of sexuality in the past few years came from a former Liberty University student, who shared his story in The Atlantic about coming out as gay – and finding surprising acceptance – at the evangelical school: 
Not tolerating someone for his narrow-mindedness is perhaps the epitome of intolerance. I learned from my time at Liberty that this bigotry happens on both sides: not only were there some Christians who wanted to stone some gays, but there were even some gays who wanted to stone a few Christians. Just the other day, I saw a man driving a car with two bumper stickers. One was a rainbow. The other showed a picture of a lion, and contained the caption "The Romans had it right." Just another open-minded gay man, I suppose.
A contributor to a group blog where I still have posting privileges, The Moderate Voice, was so alarmed by this perspective of tolerance that he referred to it as "Stockholm Syndrome."
I've written before about my renewed appreciation for my alma mater, the evangelical Seattle Pacific University, in part because of its commitment to respectful debate on contentious issues, especially those that are particularly divisive in the Christian community, like our homosexual brothers and sisters.
You'll almost certainly never see SPU or Liberty on an LGBT-friendly list, nor any school that affirms historic Christianity's teaching on the body. But that tells you nothing about whether a person who is not a conventional straight man or woman will find community there.
Similarly, these LGBT-friendly lists tell me nothing about what these schools stand for, other than perhaps the evolving circumscription of appropriate views.
Greg Piper is an assistant editor of The College Fix. (@GregPiper)
Like The College Fix on Facebook / Follow us on Twitter
IMAGE: thisisbossi/Flickr