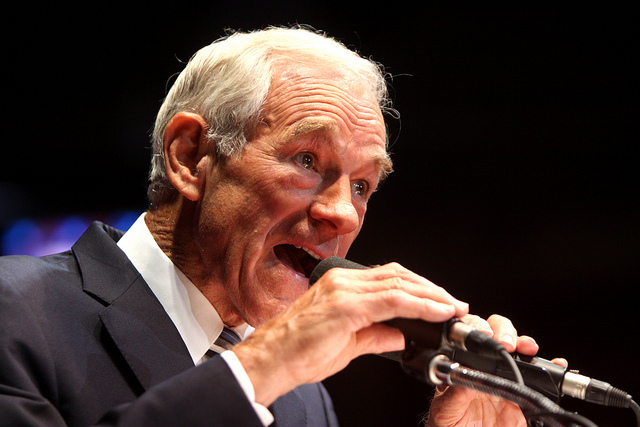 The true "revolution" of the Republican Party lies not within the Republican Party, but within the context of individual freedom.
That's one tidbit of many that former presidential candidate and libertarian guru Ron Paul offered Monday night about the Republican Party to a large crowd at George Washington University.
Paul, in his speech, spoke about the issues with the establishment Republican strategy, and how restoring individual liberty, free markets, limited constitutional government and a non-interventionist foreign policy are the solutions that should be offered and touted.
He mentioned some Republicans over the past century contributed to America's current problems when he criticized Richard Nixon's embrace of Keynesian ideals, and said many Republicans today are "weak on civil liberties."
Hundreds of students and young professionals of all political persuasions packed George Washington University's Lisner Auditorium to hear the former congressman speak in an event hosted by the university's College Republicans.
During his time at the podium, Paul didn't just dwell on Republican issues. His most striking criticism focused on partisan politics in general.
Paul said Republicans and Democrats alike are getting in the habit of regulating personal or economic behavior against the interests of liberty.
He cautioned the audience that too much regulation can turn into a situation where "you can't drink raw milk without the government's permission."
The large crowd erupted in applause as Paul said those who are anti-regulation are "winning the war on drugs."
Paul, who retired last year after 30 years of service in the United States Congress, is using his post-political career to serve as an advocate for liberty in politics, as well as a spokesman for limited constitutional government and commodity-backed currency. He often visits college campuses to argue in favor of those causes.
He is known among both his former colleagues in Congress and his constituents for his strictly constitutional but consistent voting record in the House of Representatives.
George Washington law alumnus Rep. John James Duncan (R-TN) said Paul voted as he believed, but sometimes "alone."
"I've never seen him waver once from his strong commitment to freedom and liberty," Duncan said.  "People who disagree with him on almost every vote agree on his courage."
Fix contributor Katherine Rodriguez is a junior at George Washington University.
CLICK HERE to Like The College Fix on Facebook.
IMAGE: Gage Skidmore/Flickr