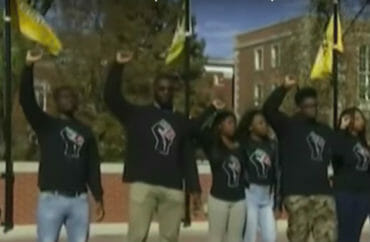 The cops 'beat up my little brother!'
Twelve months before the U.S. presidential election, U.S. Air Force Lt. Col. Jarred Prier got a taste of Russia's covert efforts in American political affairs without recognizing the flavor.
It was November 11, 2015. Prier was in Washington browsing Twitter for news about his alma mater, the University of Missouri, where racial protesters had just succeeded in ousting the university system's president.
#PrayForMizzou was trending. Backlash against the protesters had escalated fears of violence on campus. Intrigued, Prier began pouring over tweets supportive of Mizzou protesters.
Activists on the ground were sharing minute-by-minute updates of campus, where encamped protesters had claimed the university's quad as their headquarters.
Still other Twitter users, veiled by pseudonyms, claimed Mizzou's campus was in the midst of a violent street war.
"The cops are marching with the KKK!" wrote @FanFan1911. "They beat up my little brother! Watch out!" The tweet included a photo of bruised black child, ostensibly the Twitter user's younger brother.
Like many other alarmist Mizzou-related tweets that day, it appeared to have been widely shared.
The only problem, Prier quickly determined: The photo had been lifted from 2013 news reports of alleged police brutality in Ohio.
He suspected the heightened notice the tweet drew was no accident. In addition to well-meaning users who shared it, the tweet had been boosted by dozens of apparently fake accounts.
In an act of one-off online vigilantism, Prier fired back at @FanFan1911: "[S]top spreading lies."
It didn't work.
Mizzou was not embroiled in chaotic street-by-street fighting, but these outwardly authentic social media hoaxes scored an apparent win: goading Mizzou's student body president into tweeting that the Ku Klux Klan was on campus.
MORE: Two student body presidents make suspicious racial-slur claims
'I was sick of the hoax and I wanted to fight it'
The alleged Russian and Islamic State-sponsored psychological operations that targeted social media users in the U.S., including those related to Mizzou protests, are detailed by Prier in Strategic Studies Quarterly's most recent issue, which flew under the radar until this week.
Now director of operations for the 20th Bomb Squadron, Prier had studied the social media habits of the Islamic State as part of his Air Force fellowship at Georgetown University.
The inflammatory tweet by @FanFan1911 "was the last straw for me; it was a bit of a blind-rage tweet," Prier wrote in an email to The College Fix Wednesday. "I was sick of the hoax and I wanted to fight it. Of course it was like spitting in the eye of a hurricane—it did no good, but it felt good at the time."
The hoax tweet and its spread continued to fascinate him. Guided by his background on Islamic State propaganda efforts, Prier made a short list of Twitter accounts that appeared to have aided in spreading racial hoaxes at Mizzou. At the time Prier had few leads on what was driving dozens of accounts to spread false panic.
In October 2016 he "had to submit a topic" for his thesis, and thought his unofficial research into the disinformation campaign would be a good project, Prier told The Fix. That's when his Air Force fellowship work of identifying the culprits began in earnest.
How Russia 'hijacked' the 2015 University of Missouri racial protests to spread misinformation by The College Fix on Scribd
Working off his initial notes and a half-remembered list of suspected Mizzou hoax collaborators, he soon found the scope of the diffuse propaganda efforts on social media had widened.
"Every morning it seemed that the network was getting bigger and bigger," he told The Fix.
Prier identified some 16,000 to 34,000 suspected semi-automated bot accounts, acting in concert to push false stories and divisive narratives on Twitter.
He also discovered that many on his initial shortlist of suspected troll accounts — including @FanFan1911 — suddenly and inexplicably had begun tweeting in German. Many accounts expressed newfound populist conservative beliefs spanning criticism of refugee immigration to Europe, negative "disinformation" about NATO, and criticism of U.S. military involvement in Syria, he told The Fix.
Their motive seemed to be to game Twitter's ranking algorithm to lend prominence to hashtags primed with troll tweets that favored Russian interests, he believes.
Their posts were designed to inflame insular groups such as "Black Twitter" and "incite both fear and anger," he said.
"The image and the narrative were part of a larger plot to spread fear and distrust," by operatives who had "hijacked" activist's social media hashtags, Prier wrote in Strategic Studies Quarterly.
"It worked," he wrote, because Mizzou student body president Payton Head claimed campus police, the Highway Patrol and the National Guard had "confirmed" KKK members were on campus.
MORE: Payton Head warns the KKK is on campus
Facebook from Payton Head (@MSAPresident): pic.twitter.com/GcYsd3Klb6

— Alec Lewis (@alec_lewis) November 11, 2015
"National news networks broke their coverage to get a local feed from camera crews roaming Columbia and the campus looking for signs of violence," according to Prier. "As journalists continued to search for signs of Klan members, anchors read tweets describing shootings, stabbings, and cross burnings. In the end, the stories were all false."
Head deleted, then retracted his Nov. 10 statement, saying he was sorry for "the misinformation that I have shared through social media," which he learned from "multiple incorrect sources."
Head did not respond to a Fix inquiry via Twitter messages into whether social media hoaxes had contributed to his false claim of hate group activities on campus.
The Fix was unable to confirm whether Head's incorrect Facebook statement came after Russian operatives allegedly co-opted the #PrayforMizzou hashtag. Head's retracted statement came around 11 p.m. Nov. 10, while Prier's reply to @FanFan1911 is dated Nov. 11.
@Fanfan1911 stop spreading lies. https://t.co/F5H9lVEzfo

— Jarred Prier (@JarredPrier) November 12, 2015
@FanFan1911's account, along with other accounts Prier suspected were Russian bots, was suspended by Twitter sometime before November, when the journal issue was first published, he said. He did not have a screenshot of the original tweet.
Prier conceded he may have given the wrong date for FanFan1911's tweet, but said he believed Head's statement came at the "peak of the trend" of other troll postings.
'Instead of air power and poisonous gas, it was trends on Twitter'
Prier's study "would certainly help explain the origin of that 'news' that we were trying to combat and in some cases continue to do so today," Mizzou spokesperson Christian Basi told the Columbia Daily Tribune Tuesday.
Prier likened Russia's alleged social media strategy to the post-World War I "air power theory" advocated by Italian general Giulio Douhet.
Douhet believed "people would not tolerate their governments pursuing wars if they, the civilian populous [sic], were the targets," Prier told The Fix. He said Douhet believed that to prevent a new global war a "new machine should be used to bomb the people with poisonous gas so the people would rise up and demand their government capitulate instead of fighting a war."
"It was Douhet's theory, but instead of air power and poisonous gas, it was trends on Twitter. If a group can control a trend, they can control a narrative," he told The Fix.
It didn't matter that "there were no KKK or Nazis on the streets of Columbia" or threats to local black students: "The fact that it induced confusion into a tumultuous situation was enough to induce panic."
Prier told The Fix his work was emotionally draining. "[A]fter all of my research I'm really only trying to keep it to happy stuff now. Doggos and baseball are the best side of Twitter."
MORE: Massive diversity requirement planned for Mizzou
IMAGE: Fox News/YouTube
Like The College Fix on Facebook / Follow us on Twitter