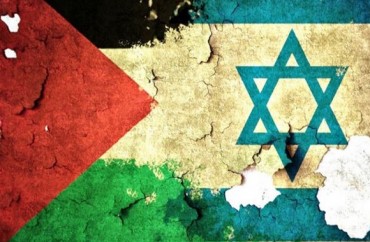 Book accuses Israel of targeting the 'vital organs' of Palestinians
A Rutgers University professor who claimed Israel harvests Palestinian organs co-won the National Women's Studies Association 2018 Alison Piepmeier Book Prize for her book "The Right to Maim."
Jasbir Puar, a professor of women's and gender studies at Rutgers, hasn't been shy in the past about attacking Israel, arguing in a talk that Israeli defense forces use "shoot to cripple practices" that involve shooting at the vital organs of protesters.
Her latest book won accolades for its discussion of "debility," or "bodily injury and social exclusion brought on by economic and political factors." For Puar, Israel practices debility by "designating" Palestinians "available for injury," pointing to the replacement of "the right to kill" with "the right to maim."
This theory is part of Puar's larger controversial claim that Israel harvests organs and conducts scientific experiments on Palestinians.
The award is given to works that contribute to feminist disability studies, according to a press release from Rutgers. The press release stated the book "marks a paradigm shift" by arguing that debility and "state production of disability" are useful for states under neoliberal capitalism, and points the finger at Israel for experimenting on Palestinian bodies.
Congratulations to Prof. Jasbir Puar on Co-Winning the @nwsa 2018 Alison Piepmeier Book Prize for "The Right to Maim: Debility, Capacity, Disability" @DukePress, 2017. @RutgersU @RutgersSAS @RutgersToday @daily_targum #RutgersExcellence https://t.co/UUYtvlKxdF pic.twitter.com/JwnS5EF7SL

— WGSRutgersU (@WGSRutgersU) September 6, 2018
Seth Mandel, a Rutgers graduate and New York Post opinion editor, criticized the award on Twitter.
Prof at my alma mater gets award for book-length medieval blood libel because academic anti-Semitism is not just tolerated, but encouraged and rewarded https://t.co/LfxRD0rKr1

— Seth Mandel (@SethAMandel) September 9, 2018
IMAGE: Youtube
MORE: Jewish students say they must oppose Israel or be marginalized
Like The College Fix on Facebook / Follow us on Twitter