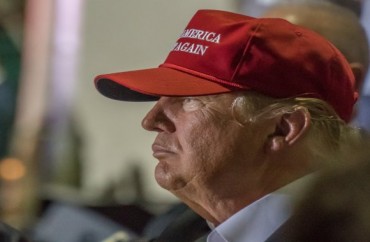 UPDATED
It started out fairly innocuous, Rutgers student T.L. writes in The Tab, with little side remarks made about his "Make America Great Again" hat.
But that's mainly because it was during the week.
"The first and second days I wore my MAGA hat around campus were pretty uneventful. They were weekdays, so everybody was sober enough to restrain their hatred. Still, people expressed their disapproval, but it was all passive aggressive," the student writes.
"I remember sitting on a bus with my hat flipped backwards, and two girls were talking right behind me about how wearing this hat was a social fallacy."
As the weekend approached, things got nastier "because, as we all know, drunk words are sober thoughts."
On Friday, I took the bus from Cook to College Avenue; keep in mind this was in the late evening, so everybody was at least a bit tipsy by this point. A girl walked down the bus stairs to get an inch from my face, asking me to throw my hat off the bus. When I refused, she threatened, "I WILL SHIT ON YOUR FACE." I asked her if I could take a picture of her for this article, but she gave me the finger.

Saturday was the Michigan football game, and this was really interesting as everyone was wasted by three in the afternoon. When walking to the bus to get to the stadium, a group of guys behind me started chanting, "Fuck Trump!" Repeatedly.

When I was riding the bus back from the stadium, I overheard a student say, "yo fuck Donald Trump." This caused an alliance of three men, all freshman, bonding over their hatred for Donald Trump. They claimed that they, "needed to educate people," and everybody on the bus smirked at me.

MORE: Professor/activist to student voters: If Donald Trump wins, 'we can potentially go to war'

After the weekend, I expected the same passive aggression. After the whole controversy with Trump's statement about women, I noticed that girls were now glaring at me and shaking their heads in disapproval. Tuesday, I walked down George Street to College Ave, and because this street is intertwined with the New Brunswick community and not just students, their verbal aggression was the only time I truly feared for my safety. Keep in mind, this was late in the day after class, and I just wanted to take a walk and get some sushi, so when a woman snatched my hat, I had no regrets when I snatched it back. She yelled at me when I was walking away, but nothing more. Yesterday, when I went to the College Ave gym, a 6 ft. tall man with a strong build yelled in my face, "I FEEL SORRY FOR EVERYONE THAT HAS TO SEE YOU."
The student said he was relieved to see that the disapproval wasn't universal. Quite a few folks high-fived him for his hat, and many, he said, privately told him they wanted to show support for the GOP nominee too, but were afraid.
"I honestly didn't think that there would be ANY good reactions," he said. "[No] matter what your beliefs are, don't be afraid to support them or vocalize them. If you live in a society where you can't express yourself, everybody loses."
MORE: At presidential debate, College Republicans tell the world 'Trump scares us too!'
MORE: College students who openly support Trump censored, threatened, bullied by professors, peers
Like The College Fix on Facebook / Follow us on Twitter
IMAGE: Windover Way Photography/Shutterstock
Like The College Fix on Facebook / Follow us on Twitter