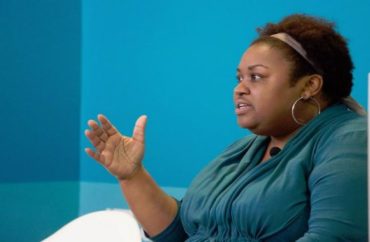 Rutgers University's Brittney Cooper is back, this time offering her thoughts on the desire of many Americans to reopen the country as the coronavirus curve flattens out.
In a Tuesday Twitter rant, the women's and gender studies professor wrote "I feel like most Black people are clear that this utterly absurd to [sic] push to re-open the country is all about a gross necropolitical calculation that it is Black people who are dying disproportionately from COVID."
Isn't it really cool how she used a neat critical theory term like "necropolitical"? (It means "the use of social and political power to control people's lives" — see Cameroonian philosopher Achille Mbembe). Even 1619 Project founder Nikole Hannah-Jones was unaware of the term.
Cooper goes on to allege white conservatives don't care about the lives of blacks, and that the "white supremacists among them" indeed want a "massive winnowing of Black folks" in order to "slow demographic shifts" and shore up political power.
Earlier this week I watched a white high school classmate defending Trump on the disinfectant BS. And I realized again that for his supporters, realizing just how wrong they were about this man, and the depths of his idiocy and depravity, is akin to an existential crisis for them

— Brittney Cooper (@ProfessorCrunk) April 28, 2020
They are literally willing to die from this clusterfucked COVID response rather than admit that absolutely anybody other than him would have been a better president. And when whiteness has a death wish, we are all in for a serious problem.

— Brittney Cooper (@ProfessorCrunk) April 28, 2020
Black people did not vote for this dude in any appreciable numbers. (Black men voted for him at 15% and they are dying the most.) No Black person deserves this and Black women knew it would be absolutely awful for him to be president. And now we all live in daily fear.

— Brittney Cooper (@ProfessorCrunk) April 28, 2020
I am saying some obvious things this morning because as a country we are too good at skipping over the audience and we might as well say this to people as often as we can. Fuck each and every Trump supporter. You all absolutely did this. You are to blame.

— Brittney Cooper (@ProfessorCrunk) April 28, 2020
College Fix readers may recall perhaps the best example of Cooper's genius: that the concept of time itself is racist:
"[Blacks] treat time as though it is timeless, as though it has always been this way, as though it doesn't have a political history bound up with the plunder of indigenous lands, the genocide of indigenous people and the stealing of Africans from their homeland."
According to her faculty page, Cooper received her PhD in American Studies from Emory University. Her research interests include "Black Women's Intellectual History, Black Feminist Thought, Hip Hop Feminisms, [and] Hip Hop Studies."
MORE: Brittney Cooper: 'White male privilege kills'
MORE: Brittney Cooper discusses 'ratchetness'
IMAGE: New America / Flickr.com
Like The College Fix on Facebook / Follow us on Twitter