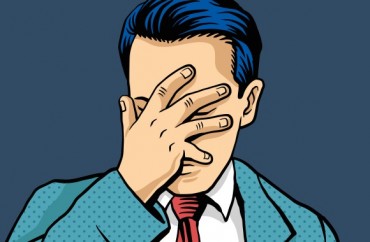 1. Free speech is to ISIS as liberals are to common sense
There was a bill proposed in Tennessee that aimed to fully protect students' free speech rights and outlaw bias reporting systems, but the legislation was beheaded – um, we mean shelved – after it was argued that the bill, if approved, would hypothetically allow ISIS to recruit on college campuses.
2. If it walks like a duck and quacks like a duck, it may have been inspired to be a duck … but not really
Most of you probably remember the stabbing attack that Faisal Mohammad was responsible for five months ago at the University of California, Merced. Well, the FBI investigation has finally concluded and Chancellor Dorothy Leland blatantly ignored sufficient evidence showing that Mohammad's actions were strongly influenced by ISIS. She said Mohammed radicalized himself and acted alone. But that's not what the pro-ISIS propaganda found on his computer, his Internet search history showing visits to extremist websites, and his handwritten "how to behead someone" instruction note indicates.
3. Lincoln was gay, Tupac's alive and Jews are behind ISIS
If you find yourself howling to Bigfoot and searching the skies for UFOs, Oberlin College might be the place for you! At least, it is for conspiracy theorist and "social justice" Professor Joy Karega, who lets her imagination run wild on her Facebook page. Since 2015, Karega has made a number of posts blaming 9/11, the rise of ISIS, and the Charlie Hebdo attacks on Israel. Word on the street? Karega will offer Holocaust Denial 101 in the fall.
4. Phyllis (not Elaine) Bennis doesn't want us to blame ISIS
Scholar Phyllis Bennis's lecture series titled "Understanding ISIS and the New Global War on Terror" taught students at Western Washington University, Evergreen State College and Seattle Pacific University that terrorism in the Middle East is a result of American intervention. The woman seriously believes that terrorism is not a threat to America and that 9/11 was not a threat to our society. Bennis says 9/12 was actually a greater threat. Please tell us more about this fairytale world you live in.
5. Because world peace
Harvard University – where America's best and brightest go to learn? But then why, when some of its students were asked if the U.S. or ISIS was a bigger threat to world peace, they said America?
6. These snowflakes want to protect your freedom and will even let their neighbor die for it
A recent study conducted by the Harvard Institute of Politics showed that 60 percent of 18- to 29-year-olds either "strongly support" or "somewhat support" sending troops to fight ISIS. The next natural assumption is these individuals would join the cause. Wrong! Sixty-two percent of these snowflakes "would definitely not" join the military if the U.S. was in need of additional troops. Perhaps for the best – we want bullets in the barrels, not flower petals.
7. ISIS starter kit: 1 Qur'an, 1 AK-47, and 1 Amazon Kindle
A Kent State University professor has been under federal investigation for about a year and a half for allegations he has ties to ISIS. The professor, Julio Pino, denies these claims. But he can't escape his writings on academia.edu in which he celebrates suicide bombers. Funny side note, he stole a kindle from a cafe "book drive" because he thought it was free.
8. Most Dangerous (as told by a liberal): America, law abiding gun owners, toothpaste and OJ, then ISIS
Deepa Kumar, an associate professor of journalism and media studies at Rutgers University and author of "Islamophobia and the Politics of Empire," tweeted that the United States is more "brutal" than ISIS because our military has killed more people in Iraq, Afghanistan and Pakistan. Kill babies, no problem! Kill cops, hell yeah! Kill terrorists, check your privilege, they're just misunderstood.
9. Liberals can think of no better day to support Islamic terrorism than on 9/11 (of course)
Dan Joseph, a MRCTV reporter, made his way over to George Mason University on Sept. 11 and left the campus with roughly one dozen student signatures in support of ISIS. The students were overall quite cheerful when talking to Joseph, and took a "we're against bombing ISIS" stance. Worried yet?
10. If you give a mouse a cookie, you'll create ISIS
We once again have two professors blaming the formation of ISIS on the United States. Two University of California-Santa Barbara history professors, Sherene Seikaly and Adam Sabra, held a discussion titled "ISIS: A Historical Perspective." To sum up what was discussed: The United States used depleted uranium in the battle of Fallujah, which caused high rates of cancer and birth defects, additionally U.S. forces caused mass incarceration, torture, and put Iraqis in long-term detention. Therefore, we have ISIS. These connections are about as strong as cow farts causing global warming.
11. They were for ISIS before they were against ISIS
The independent student newspaper Mace & Crown at Old Dominion University was hacked by an Algerian group called the "El Moujahidin Team." The self-proclaimed Muslim group used the website to call an end to the killing of all Muslims and for the release of Hamza Bendelladj (pronounced Bellydancer). They claimed to be a supporter of ISIS on Twitter, but when their pro-ISIS stance was publicized, the hacker group took down the tweet and denied its support for the radical jihadists. Reminiscent of what Mark Zuckerberg did in the "Social Network," except no one was dying, he was just comparing girls to farm animals.
Like The College Fix on Facebook / Follow us on Twitter