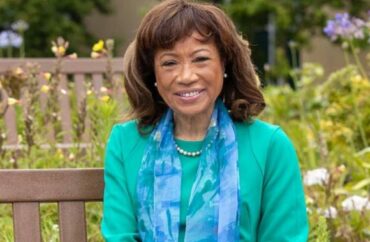 'She is engaged in scholarly work related to culture, race, gender and intersectionality'
San Francisco State University appointed a new dean to lead the College of Science & Engineering "to create an environment of multiculturalism, inclusiveness and equity," according to an announcement.
Professor Diane Harris currently teaches in the psychology department. "Her research has focused on the development of eating disorders within communities of color," according to the university.
The college tasked Harris (pictured) with "institutionalizing an anti-racist multicultural community within the college" and "implementing the goals and objectives of the Strategic Action Plan developed by the CoSE Anti-Racism Task Force and completed in August 2022."
The College Fix reached out to a campus spokesperson for a copy of the report and for more information on the recommendations. Kent Bravo, the college's media specialist, did not respond to two emailed requests for comment sent in the past week and a half.
The initial announcement of the task force stated the report would be available on the college website. No such report or update could be found when The Fix reviewed the website on Aug. 21.
The Fix reached out to Professor Harris and asked for a copy of the report, her first tangible priority for the new role and what obstacles she has seen so far in implementing the "anti-racism" agenda. She did not respond to an August 14 email.
One inspiration for her work is the death of some people who are seen as being killed as a result of racism.
"We must honor those who sacrificed their lives," Harris noted, with reference to George Floyd and others. "Although we continue to experience the trauma of racism, we must commit to confronting racism and to stopping its violence and destruction."
MORE: Less smartphone time linked to more sex, BYU study finds
"More than likely, because of its ingrained historic and continuous perpetuation, we will not eradicate racism in its entirety — however, we have a choice," Harris stated in the news release. "We can sit back and do nothing and let this racist destruction continue or we can actively do something by creating an anti-racist community within CoSE."
A business professor at Drexel University who wrote a book about liberal bias in higher education criticized the new hire in comments to The Fix.
"San Francisco State will achieve nothing except additional budget bloat, because its so-called 'goals' are nothing but a contrived fantasy of a phantom 'racism' that exists both everywhere and nowhere.," Professor Stanley Ridgley told The Fix via email.
"These institutions with their 'antiracism' plans never identify any specific person, program, procedure, or policy that exhibits this 'racist destruction' that they aim to 'eradicate,'" he said.
"San Francisco state is typical in this regard, with the added insult that it has appointed a person whose research focuses on eating disorders within communities of color,'" Ridgley said.
"People want engineering schools to produce graduates who build bridges that don't collapse and tourist submarines that don't implode," he added. "They don't care about bolted-on 'diversity' linked to 'social' engineering rather than to Engineering writ proper."
He said that while the DEI movement has lost support, the university is still a participant.
"SFU has added an additional bureaucrat to the monstrosity," Ridgley said.
"The rest of the country is moving on from the DEI fraud, slowly and painfully, as the bureaucrats in corporations are being let go or shifted to other roles," the professor said.
"Yet SFU is climbing aboard a movement that is in its twilight, like buying bell-bottom jeans, learning to dance the Macarena, or wearing a mask while alone in an automobile. "
MORE: Law enforcement evades questions on BLM flag vandalism
IMAGE: Paul Asper for San Francisco State University
Like The College Fix on Facebook / Follow us on Twitter