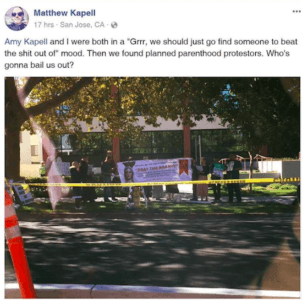 UPDATED
'Who's gonna bail us out?' 
A screenshot of a Facebook post apparently made by an instructor at a California public university shows the instructor openly plotting to violently assault anti-abortion protesters.
"Amy Kapell and I were both in a 'Grrr, we should just go find someone to beat the shit out of' mood," the post, attributed to San Jose State University lecturer Matthew Kapell, reads. "Then we found planned parenthood [sic] protesters. Who's gonna bail us out?"
Kapell's Facebook page is protected, but a screenshot of the post was uploaded to Facebook by an account under the name of "Pro-Life Libertarians."
The College Fix reached out to San Jose State University for comment. University spokeswoman Patricia Harris told The Fix: "I am looking into this." Harris then requested a link to the post, which The Fix provided.
Kapell did not immediately respond to The Fix's request for comment via Facebook.
According to his personal website, Kapell has previously taught at the University of Michigan, Swansea University, University of Michigan-Dearborn, Wayne State University and several other institutions.
UPDATED: Patricia Harris supplied The Fix with this statement from the university: "Thank you for bringing this to our attention. We have confirmed that Matthew Kapell is a part-time temporary faculty member who teaches two courses at SJSU. SJSU will respond appropriately."
Harris did not immediately respond to a request for clarification regarding the university's intended response.
MORE: Berkeley teacher who leads leftist violence arrested on assault charges
MORE: Student pro-life display casually vandalized in broad daylight at CU-Boulder
IMAGE: Facebook
Like The College Fix on Facebook / Follow us on Twitter