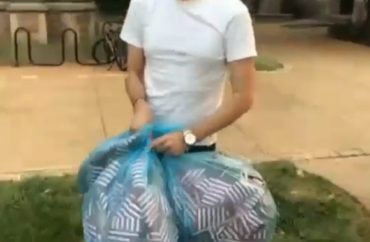 Took more than a month to hand down a punishment
More than a month after Fadel Alkilani vandalized a 9/11 flag display, Washington University officials handed down his punishment.
"A student senator at Washington University in St. Louis was fined $500 and put on disciplinary probation," Young America's Foundation reported on October 20. The conservative student organization sponsored the flag display put up by the university's College Republican chapter.
YAF obtained a letter from the student conduct office that described the punishment Alkilani received.
The letter said Alkilani has been convicted of five different violations of the student conduct code. The violations include "[f]urnishing false information, "[i]nterfering with the rights of other members of the university community," and theft.
WOW: A student senator at @WUSTL was caught on video throwing away 2,977 American flags from conservative students' 9/11: Never Forget Project memorial.

Despicable. pic.twitter.com/j6Wf1mdyLl

— YAF (@yaf) September 11, 2021
He has been placed on probation and removed from his resident advisor job but remains on the finance committee of the student government. YAF reported that his position allows him power to allocate more than $1 million to student organizations.
This power concerns YAF.
"It's concerning that Alkilani remains in his leadership position in student government, given that he controls so much funding for student organizations," spokesperson Kara Zupkus told The College Fix on October 21.
Alkilani will have to write an essay as part of his punishment. "Respondent will be expected to meet with a university faculty or staff member and complete an essay on a topic, which will be determined by my office," Associate Dean Sheryl Mauricio wrote in her letter. "The purpose of this educational sanction is to encourage meaningful reflection on his actions and their impact on other members of our community."
He must also pay $500 in restitution for the damage to the flags.
"It was great to see the school take real disciplinary action, but considering the significance of Fadel's actions I had hoped to see more," College Republicans Chair Nick Rodriguez said, according to YAF.
"This case was a unique one, and understanding the lack of precedence, it would have been great to see the school clearly state they would not stand for this behavior," Rodriguez said. "College Republicans plan to pursue his impeachment from the Student Union."
Young America's Foundation said it plans to continue to work towards free speech at WashU.
"While we are glad the university gave him more than just a slap on the wrist, it's not hard to imagine how swiftly a conservative student would be punished in a similar situation if the roles were reversed (BLM, LGBT flags, etc)," Zupkus told The Fix. "YAF will continue working tirelessly to ensure free speech is respected at WashU and campuses across our nation."
MORE: Check out our cancel culture database
IMAGE: Twitter/YAF
Like The College Fix on Facebook / Follow us on Twitter