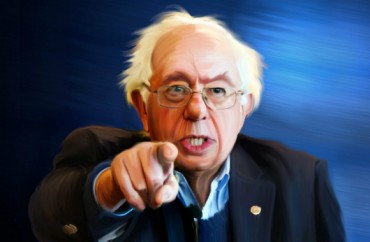 Nearly 99 percent of Big Ten contributions go to Democrats
Vermont Sen. Bernie Sanders and Massachusetts Sen. Elizabeth Warren together collected over 60 percent of the nearly $1.2 million donated to presidential candidates by employees of Big Ten Conference schools since 2018, according to an analysis by The College Fix.
According to data from the Federal Elections Commission, Sanders, a self-described democratic socialist, led the 2020 presidential field among Big Ten donors, bringing in $383,000, or 32.2 percent of all conference contributions. Warren finished a close second, collecting $336,000, or 28.2 percent of all contributions.

These contribution levels are one measure of the political balance at large state schools in many of the 2020 battleground states (Pennsylvania, Michigan, Ohio, Wisconsin.)
Both Sanders and Warren saw their largest hauls from the University of Michigan, with Sanders collecting $59,000 and Warren raising $52,000 from Michigan employees.
Republican President Donald Trump, the incumbent, collected $16,000 from Big Ten schools, or 1.4 percent of total contributions. Trump does not have a competitive primary opponent.
The University of Michigan was the most politically active school based on contributions, with its employees donating $163,000 to 2020 presidential candidates. Following Michigan were the University of Minnesota, whose employees gave $140,000, and the University of Wisconsin-Madison, whose workers contributed $127,000.
Former South Bend Mayor Pete Buttigieg collected $242,000 from Big Ten schools, or 20.3 percent of the total. Buttigieg's largest single contributor was his home state Indiana University, where he collected more than any other candidate.
Minnesota Sen. Amy Klobuchar raised $108,000 from Big Ten schools, although more than half of her total amount ($59,000) came from her home state University of Minnesota.
Former Vice President Joe Biden (6.5 percent) and Hawaii Rep. Tulsi Gabbard (2.2 percent) raised the least of any candidates who aren't self-funding their campaigns. Billionaire former New York Mayor Michael Bloomberg raised no money from Big Ten schools and billionaire businessman Tom Steyer received a single $16 contribution from someone at the University of Iowa.
Republican primary candidate William Weld did not raise any money from Big Ten schools.
The least politically active campus as measured by campaign contributions was the University of Nebraska, whose employees only contributed a total of $19,500 to presidential campaigns.
Last week, The Fix reported that Sanders and Warren had collected nearly two-thirds of all contributions from employees of Ivy League universities.
For branding purposes, the Big Ten Conference continues to count 14 schools as members.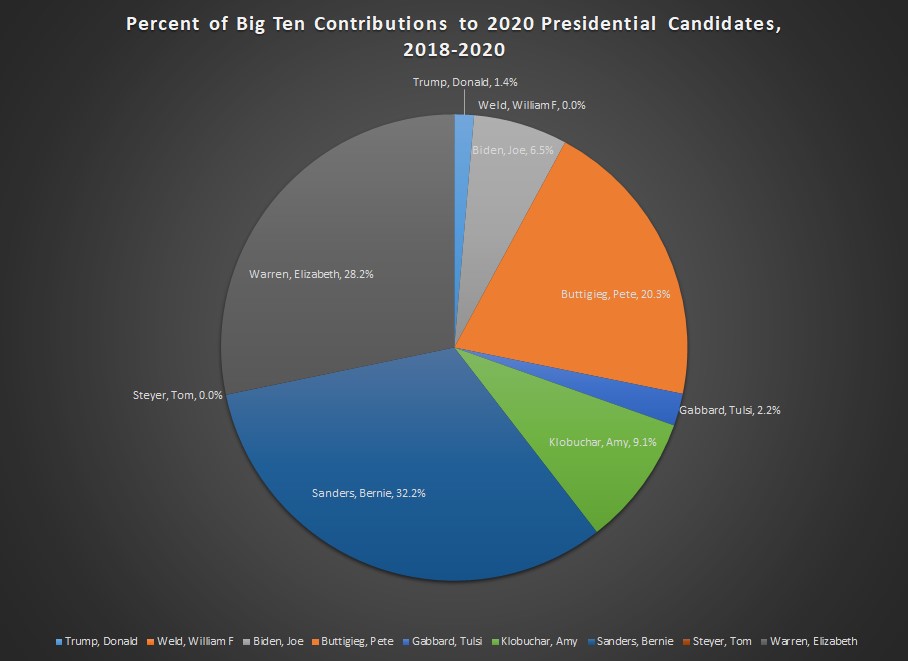 MORE: Student body president faces impeachment because Trump Jr., not Bernie Sanders, agreed to campus speech
IMAGE: Flickr
Like The College Fix on Facebook / Follow us on Twitter