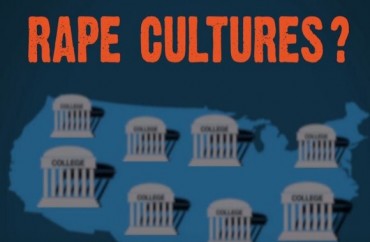 Annoyed by fraternity survey with 'leading questions'
Saying anything on the internet these days is already a minefield.
Running for student government as a fraternity brother while trying not to awaken a self-righteous digital mob might as well be walking on lava.
Just three days after he was elected to the Student Senate at Michigan's Grand Valley State University, Patrick Borum resigned his position. What provoked the mob?
A fully debatable claim, one that was made into an entire book by feminist author Wendy McElroy: "Rape culture isn't real."
And what provoked Borum to write his terse post?
An "informed consent" survey distributed to GVSU fraternity members, created by college consulting firm Dyad Strategies, that suggests male Greek life is obsessed with dominating women, excusing rape and not being called gay.
No, America does not tolerate rape 'on a widespread scale'
The Lanthorn reports that Borum's four-word Facebook post Tuesday was immediately disavowed by Senate President Ella Fritzemeier.
She said his "individual" perspective did not represent the entire body, which supports "prevention, education, and awareness surrounding the issue of sexual assault," and she claimed that Borum had "voluntarily resigned."
MORE: GVSU forced to massively expand 'free speech zones' to settle lawsuit
Also a member of Kappa Sigma, Borum told the paper he was simply saying it's "false" that American culture tolerates rape "on a widespread scale," which is the central idea of rape culture:
There will always be exceptions, but I believe that we do not live in a society where rape is encouraged.
He said he was indignant at a survey the university recently forced on fraternity members, full of "leading questions." The survey, which The College Fix took from start to finish, suggests the administration sees male Greeks as little better than brutish prisoners.
Though he refuses to "recant my post," Borum's post (inset) is not visible on his public Facebook page. He has, however, been arguing with people on his Twitter account since his post went viral.
"[S]aying rape culture doesn't exist does not mean i support rape you freaking idiots," he tweeted Tuesday afternoon, sparking several critical responses.
"So… people are just making rape, as well as the history of rape, up? I'm confused," another student responded.
One person tweeted to the university, asking if it was "gonna do something about Patrick Borum and his whole 'rape culture isn't real' thing or nah?"
Borum's fraternity president rebuked him as well, saying he acted alone:
As an individual, Pat did something very wrong. And I hope that you don't blame our organization; any Greek organization, or for that matter any institution that this campus decides to have.
The fraternity suggested Borum will be internally disciplined for his "gross, pitiful and downright disrespectful" claim that Americans by and large do not encourage rape.
An indictment of fraternities
Fox 17 put Borum's post in context: It was made a day before the student senate hosted a meeting about "sexual assault awareness following a string of reported attacks on and near the Allendale campus at the beginning of the school year."
The Grand Rapids Press reported that Borum's post "dominate[d]" the next day's sexual assault forum, which drew about 100 students, faculty and staff.
MORE: GVSU threatens to arrest conservative students for 'free speech ball'
It was a decidedly one-sided discussion with Senate President Fritzemeier joined on stage by the "victim advocate" from the Women's Center, as well as representatives from Greeks Against Sexual Assault and Eyes Wide Open, a group of "peer educators" that sells "Consent is Sexy" t-shirts.
The forum had an anti-Greek bent. One student asked if there was "mandatory training" for fraternities and demanded Borum's removal from the Senate, "but Fritzemeier said he resigned earlier in the day and it was not requested by their organization," the Press reported.
Another student accused fraternity members of making "jokes" about the survey, which included questions about sexual assault, and said Kappa Sigma initially defended Borum in a since-deleted post that said his denial of rape culture "was far from showing support" for it.
Don't call me gay
The 20-minute survey, which remains live as of Wednesday night, appears intended to ferret out anti-snitching sentiment among campus fraternities. Here's just a handful of "level of agreement" statements:
I would never "sell out" a brother who did something wrong.

It is my responsibility to always keep a brother's secret.

It is okay to spread rumors to defend those you care about.

If needed, I would conceal information from the public that could be damaging to my organization.
Some statements deal with social pressure:
Sometimes things happen in my organization that I disagree with, but I feel I am in the minority, so I usually don't say anything.

Most of the people in my fraternity expect to "hook up" at our social events.
It asks: "On average, how many nights a week do you drink alcohol?"
MORE: GVSU professors reported to bias response team for conservative views
It also asks how much fraternity-ordered ridicule a member would accept before leaving, including "public acts of buffoonery," being paddled or "made to perform sexual acts."
The most leading "level of agreement" statements fill an entire page near the end of the survey:
If a girl gets too drunk at a party, it would be partially her fault if she had sex with someone and didn't really remember what happened the next day

If a girl is acting like a "slut," it is only a matter of time before a guy has sex with her

When a girl has sex but doesn't really remember what happened because she was drunk, it isn't the guy's fault for not knowing she was too drunk – she is responsible for her choices
It asks fraternity members how they would evaluate a claim by a female friend that she was raped by a fraternity brother, including "I would believe her … regardless or [sic] the circumstances." (The survey has several typos.)
The statements seem intended to gauge how much training fraternities need in order to say politically correct things about rape culture:
It is important to believe and be supportive of anyone who thinks they may have been sexually assaulted, even if they don't remember everything that happened
Tellingly, one statement asks if a brother would encourage a self-proclaimed rape victim to "report it to the campus police." An article of faith among activists against rape culture is that police treat women poorly when they report rape, and they should never have to report to police.
Other rape-related statements that members are asked to evaluate:
Sexual assault is not that big of a deal on campus

Most of the time, women who say they were raped really just regret getting drunk and having unwanted sex

Sometimes, people say they were sexually assaulted when that isn't really what happened

MORE: GVSU student responsible for hate-crime hoax, police say

I think issues around sexual assault on campus have been largely overblown

Getting drunk and having sex is really not that big of a deal – it happens all the time
Another entire page seems obsessed with what's often derided as "toxic masculinity":
I try to avoid being perceived as gay

I love it when men are in charge of women

Sometimes violent action is necessary

I would be furious if someone thought I was gay

I would feel good if I had many sexual partners

In general, I control the women in my life

MORE: New feminist book calls 'rape culture' a 'big lie'

It would be awful if people thought I was gay

It is important for me to win

Women should be subservient to men

I would feel uncomfortable if someone thought I was gay

It would be enjoyable to date more than one person at a time

Things tend to be better when men are in charge

If I could, I would frequently change sexual partners
Dyad Strategies, the firm that created the GVSU survey, does not mention the university on its client page, but it includes glowing testimonials from Vanderbilt, Texas Christian University and a few fraternal organizations. It lists more than two dozen schools for which it has consulted.
Borum has not responded to Facebook or Twitter messages from The Fix seeking to learn more about what happened after his post went viral.
Fritzemeier, the Senate president, provided a statement that said Borum's comments were "very concerning" to many students because he was newly elected and belongs to a fraternity.
Asked if senators were considering a censure of Borum or what other formal punishment could have been used against him in the Senate, Fritzemeier said he resigned "on his own accord and the leadership of the Senate had no conversation with him," and they respect "his freedom of speech":
We, as a Senate, disagree with his position on rape culture and think that more students such as Patrick could be better educated on Sexual Assault and how to best advocate to end this important issue. We hope that people can use this is as a learning experience and that more students will be aware of the consequences of their social media uses and the importance of not condoning Rape Culture or Cyber Bullying. We care so deeply about the safety and well-being of all of our students, and will continue fighting against sexual assault.
MORE: University with 97% women called hotbed of 'toxic rape culture'
Like The College Fix on Facebook / Follow us on Twitter
IMAGES: PragerU, Patrick Borum/Facebook via Fox 17