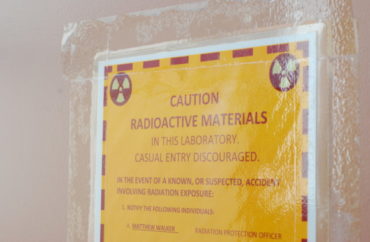 The field must confront racist and colonial norms 'to move forward'
A class offered this semester at Princeton University called "Nuclear Princeton: An Indigenous Approach to Science and the Environment" is among an effort to combat alleged racism in the field of nuclear science.
It comes as a growing chorus of scholars accuse the field of past and present systemic racism.
George Washington University in November 2021 hosted a seminar titled "A Call for Antiracist Action in the U.S. Nuclear Community" to "confront a long legacy of racial disparities and injustices in the history of the nuclear field, many of which continue today," its description stated.
Among the participants was Aditi Verma, who is slated to join the Department of Nuclear Engineering and Radiological Sciences at the University of Michigan as an assistant professor this fall, she recently announced.
The University of Michigan in June 2020 declared that the nuclear engineering field was not diverse enough and that it sought to do better.
"The nuclear engineering field was founded in military and classified programs with a white, male dominated, and hierarchical worldview and never really changed. We became a very cloistered field, unable to open the door and welcome vast amounts of talent. To date, the nuclear sector has failed to create a culture where Black people can thrive and have an impact," the department stated at the time.
Another prominent voice on the topic is Katlyn Turner, a research scientist in the Space Enabled Research Group at MIT.
In January 2022, Turner served on a panel tackling the topic of "Overcoming the Ecological and Humanitarian Threats of the Nuclear Fuel Trajectory and Nuclear Weapons."
Turner has argued that nuclear waste is dumped in poorer communities of color.
"These decisions generally tend to impact people of color, and they tend to impact people in less-resourced socioeconomic classes. And yet those people are not given a seat at the table, so they can't even help shape the conversation in most cases," she said in a September 2020 interview.
"I think the story of the nuclear field is similar to the story of most of America," Turner also said at the time.
"The nuclear field developed during a time when racist and colonialist ideas were very normalized. … So when you have a system like the nuclear enterprise developing during the time where these sorts of ideas are prevalent, you're going to get a nuclear field that is infused with those norms and as a result systematically erases or dismisses the contributions and concerns of people of color."
Both Verma and Turner co-authored an August 2020 "call for antiracist action" in the Bulletin of the Atomic Scientist.
"The very notion of nuclear weapon and non-weapon states, and some of the language deployed to characterize this divide, perpetuates Western hegemony and dominance over the Global South," the piece argued.
It also outlined how American nuclear science is allegedly awash with racism, from geographical sites chosen for testing to racism in the workplace, both past and present.
Fixing this involves policies relating to diversity hiring and retention, equitable workplace evaluation, and the prevalence of unpaid internships and fellowships, a practice inaccessible to professionals "without a social and economic safety net," its authors argued.
The piece describes its best-case scenario as a "diverse nuclear community" that "prioritize[s] racial inclusion."
The piece drew praise from some scholars but criticisms from others who argued racial injustice has nothing to do with the nuclear field, Denia Djokić said in a January 2021 podcast interview.
Djokić, a nuclear engineering scientist at the University of Michigan, also co-authored the call to antiracism. During the podcast, she took issue with a proposed solution that institutions simply hire scholars of color who can teach nuclear science as opposed to a focus on scholars who address issues of racial injustice within the field.
Djokić said that this strategy forces scholars of color to "assimilate" to the current paradigm, which may sideline new approaches to solving nuclear problems. She also called it an example of "tokenism."
Turner has argued that the field of nuclear science is home to "epistemic racism," commenting on how, at a Washington nuclear policy conference, many members of her community were "culturally assimilated at least in that space to Western norms — of dress, speech, and professionalism." The researcher asserted the field must confront racist and colonial norms "to move forward."
According to a Dec. 2021 opinion piece from the Hechinger Report, a nonprofit newsroom based in Teachers College, Columbia University, historic biases in the field of science are so ingrained that a "proactively anti-racist scientific method" is necessary. Co-author Iheoma Iruka did not respond to a request for comment.
Additionally, the Union of Concerned Scientists, which bills itself as an "inclusive" group of scientists and other experts, has asserted that public policies based on political goals "exacerbate … already intolerable racial and economic inequities in our society."
In their words, public policy must not only be evidence-based but "include … impacted people, with a focus on Black, brown, Indigenous, and low-income communities."
Nuclear engineer Mareena Robinson Snowden, in a Jan. 2021 piece "Why diversity and inclusion efforts fail in the nuclear community, and what can be done about it," argued that a "one-size-fits-all diversity and inclusion solutions do not work, particularly when aiming to address the experience of Black people in nuclear spaces."
"If there is to be any hope of having a different conversation about representation and culture in the nuclear field 30 years from now, and actually realizing the goal of greater diversity and inclusion, it will require acknowledgement of this failed frame and a radical shift in approach to one that is nuanced, proactive, and specifically focused on the margins."
MORE: Princeton course explores link between 'settler colonialism' and 'nuclear science'
IMAGE: James Ahmed / Shutterstock
Like The College Fix on Facebook / Follow us on Twitter