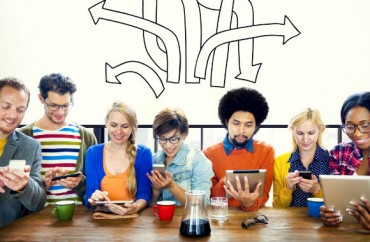 Editor's Note: This is the third in a series of articles reporting on the American Studies Association's annual meeting, an academic conference held Nov. 9-12 in Chicago.
CHICAGO – Intersectionality has become a favorite term of feminist professors and liberal students, but a pair of scholars suggested at a recent academic conference the popular concept can and should be challenged.
The remarks from Carly Thomsen, a professor of gender, sexuality and feminist studies at Middlebury College, and Kelly Sharron, a gender and women's studies scholar at the University of Arizona, asserted the use of intersectionality has become "flippant" and the term "often fails to operate as more than a buzzword."
"To teach against contemporary state violence, racism, homophobia, transphobia, sexism and sexual violence, a more pointed critique of white, hetero-masculinity and its state protections is necessary to pedagogies of dissent," Sharron said at the American Studies Association's annual conference, recently held in Chicago and themed around "pedagogies of dissent."
Speaking at a session titled "Beyond Intersectionality: Teaching Anti-Racist and Anti-Capitalist Feminism," Thomsen and Sharron argued the proliferation of the term "intersectionality" has distanced it from its original meaning and allowed a single word to serve as an analysis on heady topics.
Developed nearly three decades ago by black scholar Kimberlé Crenshaw, Thomsen said the concept of intersectionality was created to highlight how the combination of racism and sexism made a black woman's plight different from that of a white woman or man of color.
In recent years, the concept of intersectionality has become a fad among scholars and activists alike. Diversity gurus have urged campus officials to use the concept in their work. College courses have been taught around it. One feminist scholar has even looked at "combining intersectionality and quantum physics."
Yet, Thomsen argues the term should not be blindly adhered to but rather that students should be taught that the term can be contested.
A semester of teaching 'condensed into one word'
A critique of intersectionality discussed by Thomsen examined how the concept can serve as "a stand in for analysis" in the classroom. It's a problem the Middlebury College professor said she experienced in a course taught last fall on the "politics of reproduction."
Near the end of one class, Thomsen asked her students how a "feminist reproductive justice politic" should operate.
"It must be intersectional," a student responded.
For Thomsen, this answer was troubling.
"And there it was, an entire semester of learning … condensed into one word," she said in her presentation.
Thomsen urged the students to look deeper into specific aspects of intersectionality but said students were frustrated and confused by her pushback.
She argued in her presentation that relying on the concept of intersectionality allowed her students to skirt taking detailed, in-depth positions on issues and arguments related to the course that ran counter to each other.
"As the analytical train became increasingly rocky, intersectionality showed up and students' examinations of the specificity of the relationships among reproductive issues halted," she said.
Scholars don't define the term
While professors and activists have rallied around intersectionality in recent years, it turns out many scholars who use the term in their work have done a poor job of teasing out the concept and explaining it.
Data provided by Thomsen posited that out of more than 200 articles published in various academic journals, just 37.5 percent of authors who used the term "intersectional" or "intersectionality" attributed the term to a scholar. What's more, those articles were more likely to use the term without defining it.
"So, we have this term circulating, people not getting cited and it not being defined," Thomsen said.
Thomsen said intersectionality's "ubiquity" has allowed an assumption where everyone knows what the term means while Sharron claimed intersectionality has often been removed from its original meaning when used in the classroom.
But for Thomsen, the limits of intersectionality run deeper than its lack of definition or short-sighted analysis. She said she believes the concept doesn't provide a single lens that can understand how all forms of oppression are interconnected. On top of that, she said the framework also neglects how one can be oppressed in some ways but privileged in others.
"It implies that all forms of oppression can be examined with the same tool, that oppressions operate in similar ways and that understanding one form of oppression necessarily means that one will understand other iterations of oppressions. Each of these assumptions is dangerous," she said.
MORE: Intersectionality is anti-Semitic at its core, says famed Harvard law professor
MORE: 'The American outer class' — Professor explains to peers why Trump won
IMAGE: Shutterstock
Like The College Fix on Facebook / Follow us on Twitter