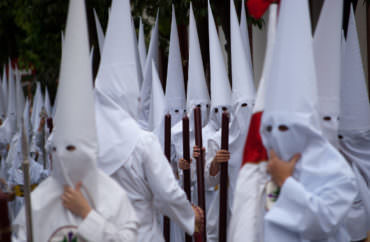 A Virginia middle school worksheet about the American political spectrum has angered some parents due to the fact that it identified the Ku Klux Klan as "right wing" and "reactionary."
The 8th grade handout from Loudoun County's Harmony Middle School features examples ranging from "Radical" to "Reactionary," with "Liberal," "Moderate," and "Conservative" in between.
There's also the labels "Left Wing" and "Right Wing" with the two major political parties in the middle of the two.
The Klan was the only organization specifically aligned with a political designation.
According to The Washington Post, school board member Eric J. DeKenipp said after a student brought home the worksheet that the parents became "alarmed": "It jumped off the page — they were offended that the right wing was affiliated with the Ku Klux Klan."
Virginia school worksheet that identified KKK as 'right wing' pulled after complaints https://t.co/8dKnJe6x0J #WWFSchool

— Battle Map (@PubSchoolFights) October 27, 2017
"If I saw antifa or Black Lives Matter on the left side, I would also argue that's inappropriate," [DeKenipp] said. "To correlate an organization such as the KKK, which has no official affiliation to the [Republican] party . . . that's not factual. That's an opinion. I'm not sure that that belongs in the curriculum."

In an interview with WMAL, meanwhile, DeKenipp cautioned that public education is "inherently liberal."

"Frankly, from my perspective, it's going to take a coordinated effort from the grass-roots level to kind of level the playing field to make sure our kids are getting a balanced-scorecard education," he said. …

Loudoun County Public Schools spokesman Wayde B. Byard said the document was authentic and has been removed from the curriculum.

"The document in question in not a resource used across the county," he wrote in an email. "It was a teacher-made activity used at one school. Our Supervisor of Social Sciences and Global Studies worked with the principal and staff to develop a more appropriate activity. It was withdrawn from the teacher's curriculum. It will not be used again."
The Post quotes a couple of college professors who back up the accuracy of the assignment's Klan designation, and they're right: The KKK is an extreme right-wing group. Mr. DeKenipp and the parents in question seem to be overreacting to the apparent connection to the GOP. Note that on the assignment, however, the label "Republicans" does not overlap that of "Reactionaries," the location of the KKK example.
If there's a gripe, it seems it would be that the worksheet did not include a specific example of a "Radical" organization like it did for the Klan under "Reactionary" like, for example, the Weather Underground.
And although it is unclear from the article, did the parents go to the media first? If so, how come? Why not contact the teacher about the assignment … or at least a Harmony Middle administrator?
MORE: High schoolers' assignment: Present argument in favor of the Holocaust
MORE: Black teacher suspended for persuasive essay assignment: Defend the KKK
IMAGE: Corrado Baratta/Shutterstock.com
Like The College Fix on Facebook / Follow us on Twitter