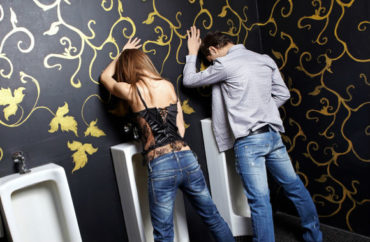 After some school board members learned their district allowed transgender students to use bathrooms aligned with their "gender identity," the board then voted to restrict use of "multi-user" bathrooms to students' (birth) sex.
The Perkiomen Valley School Board decision followed a parent's complaint that his daughter was "distressed" about a boy using the girls' bathroom, and a massive student walkout against the previous policy.
Students at the walkout protest carried signs reading "Respect girls' rights" and "Stay in your bathroom," The Philadelphia Inquirer reports.
Perkiomen Valley administrators claimed transgender students had been using restrooms of their choice "without incident." But certain board members and many parents were outraged that they weren't even aware of the old policy.
Despite the board restricting schools' "multi-user" facilities, it did allow for "more single-use restrooms to be available to any student, including restrooms previously restricted to staff members."
On Friday, students at a high school in Perkiomen Township, Penn. staged a walkout to protest the school board allowing biological males in female bathrooms. #trans pic.twitter.com/ZoGKcC48SZ

— Andy Ngô 🏳️‍🌈 (@MrAndyNgo) September 20, 2023
Right now The College Fix has a back-to-school campaign to help us continue to support our amazing student journalists. A donation today will be matched thanks to a generous limited-time matching gift opportunity from a friend of The Fix! CLICK HERE for more details — and thank you!
LGBTQ advocates like the Education Law Center's Ashli Giles-Perkins said policies like Perkiomen Valley's are "discriminatory" and have "no legal basis."
"We are appalled that districts like Perkiomen Valley have adopted discriminatory policies aimed squarely at trans and nonbinary students," Giles-Perkins said. The Pennsylvania Department of Education needs to establish a policy that "protects, [not] harms transgender and nonbinary youth," she added.
According to its website, the ELC's mission is to "pursue justice and equity for public school students by enforcing their right to a high-quality education in safe, equitable, non-discriminatory, integrated, and well-funded learning environments." The National Education Association and American Federation of Teachers, the country's largest teachers' unions, are listed among those who help fund the center.
Perkiomen Valley Superintendent Barbara Russell, who estimates about one percent of district students are transgender, had "questioned" approval of the new policy.
Five years ago, an appeals court upheld nearby Boyertown Area School District's gender-identity bathroom policy, which mirrors Perkiomen's previous one. The court rejected the claims of six students who said "they were uncomfortable […] seeing transgender teens using the restrooms of their choice."
MORE: Transgender bathroom mandate ignores science and harms children, legal groups tell Supreme Court
MORE: School rehires transgender female coach after he used girls' locker room and bathroom
IMAGE: Lucky Images/Shutterstock.com
Like The College Fix on Facebook / Follow us on Twitter