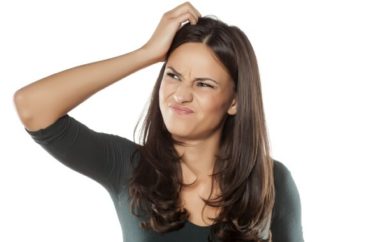 Athlete's sister contradicts herself on if an apology had been issued by the coach
A southern Illinois school district has launched an investigation into a track coach, but administrators and activists cannot agree on what she actually said.
Marion Unit 2 School District placed track coach and physical education teacher Sarah Baker on paid administrative leave after she made allegedly racist comments on April 21 about a track and field athlete.
"My little sister attends Marion High School," Asia Gossett wrote on her Facebook on April 23. Coach Baker called her sister Amari a "black barefooted African from the third world," Gossett said.
Gossett said, according to the Marion Republican paraphrase of her remarks, that "coach Sara Baker made the comment during a practice last Wednesday when some of the girls were running barefoot."
"There was a meeting [on Friday, April 23] that was set up at the high school where the coach was confronted & she told my sister to turn her uniform in," Gossett said and then urged people to call the school district to complain and to "fight racism."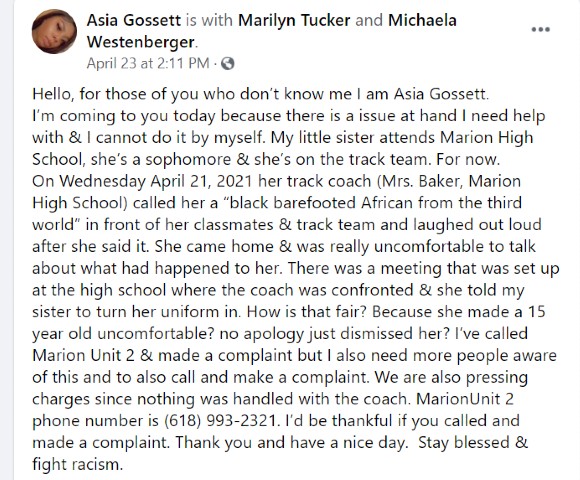 Superintendent Keith Oates disputed both those claims, according to a local news report. He did not respond to an email from The College Fix on April 28 that asked for an update on the investigation.
The school shut down on Wednesday in response to an alleged bomb threat. Oates said that the investigation is ongoing.
Baker's quotes are just one part of the story that remains unclear. While Gossett told the news that her sister had been kicked off the team, Oates, and Gossett herself, provided conflicting information.
Oates said Amari Lester-Tucker could remain on the team, according to WPSD Local 6.
Gossett "confirmed that her sister was back on the track team, saying the administration had overruled the coach's removal of her sister," according to The Southern Illinoisan.
"I would like to see her give a formal apology to my sister, and I would like to see some kind of consequence for her actions," Gossett said, according to WPSD, though Baker has already apologized to the family during a meeting last weekend.
Gossett, who was not at the meeting, reiterated the claim that Baker did not apologize. "[N]o apology just dismissed her?" Gossett wrote at 2:11 p.m. on Friday, April 23, while speaking about the meeting in the past tense.
Superintendent said there are 'more facts' to the story
"Oates also claims some social media posts and protesters' signs were an inaccurate version of what Baker actually said," the WPSD reported. "But, when asked what exactly Baker said and what she apologized for, Oates didn't directly answer."
Oates told WPSD that "not being in that meeting that took place early last week, I would be hesitant to say.'"
"It was an inappropriate choice of words," Oates said, and added "there's more facts to uncover, et cetera," according to WPSD.
WTVO, another local news station, reported that the mayor of Marion had heard different versions of the story.
"Marion Mayor Mike Absher said he's heard a few different versions of the story but called it an 'extraordinarily insensitive comment at best,'" WTVO reported.
"Absher also said there's more to the story, but wouldn't elaborate," WPSD said.
Family members and local Black Lives Matter activists held a protest on Monday, April 26 to call for the firing of Baker and Oates.
"THEY SLURR WE STRIKE, IT NEEDS TO STOP NOW , BLACK LIVES MATTER , WHO EVER CAN MAKE IT PLEASE BE AT THE @MARION HIGH SCHOOL 11:00," Shawn Jameel wrote in all caps in a Facebook post.
"Akeem Petty, a former Marion High School athlete, and Korshawn Johnson, who led Black Lives Matter protests last summer," led the rally according to the Southern Illinoisan.
The activists "chanted things like, "Black students matter!" and "Mrs. Baker must go!'"
MORE: Prosecutors consider charges after black athletes taunt teammate with banana peels
IMAGE:Vladimir Gjorgiev/Shutterstock
Like The College Fix on Facebook / Follow us on Twitter