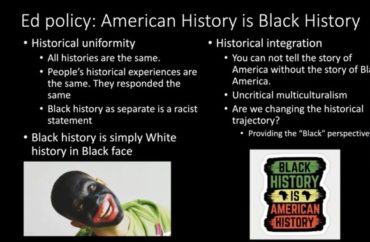 A Critical Race Theory and education professor from the University of Missouri told a school district that history is "psychologically violent." This is just one of the pieces of advice and knowledge provided by the Mizzou professor as part of his contract with the public school system.
Taxpayers at the Francis Howell School District shelled out $15,000 for Professor LaGarrett King to create an African-American history course and consult on racial issues.
During a presentation, obtained by the group "wokeatfhsd," King made a number of statements about history and activism. One insight provided by King is that non-violence is a "silly" concept.
He said that some "white males" are "triggered" when asked to denounce actions of their ancestors when it comes to racial oppression.
"Our social studies curriculum is political and racist," King explained. Even President Obama's election does not really count, he implied, since he the former president did not have ancestral tries to slavery.

The Mizzou professor's "primary research interest examines how Black history is interpreted and taught in schools and society," according to his faculty bio. "He also researches critical theories of race, teacher education, and curriculum history."
His expertise includes "Race Critical Theories and Knowledge" and "Critical Multicultural Teacher Education."
One of the attendees at the presentation asked how to talk about white privilege in a conservative "Trump country."
"There has to come a time, right, where you have to have strong leadership from the building-level as well as from the central office level," King said. He urged the district to avoid terms like "white privilege' and to write the curriculum in a way that doesn't use certain terms.
King said to just say that social studies is taught through a "social justice lens."
A black teacher said he was "afraid" of pushback from talking about issues like privilege.
White teacher boasts about teaching CRT in her history classes
A white teacher said that for 10 years now she has been incorporating "white privilege" into her history courses.
"I've been teaching these things, and the amazing thing, is that kids are way more open," but then their parents get upset when they hear about it.
The teacher does not openly tell students that she is the "anti-U.S. history teacher."
Several other teachers echoed the idea that the "time is now" to incorporate a racially-focused social studies curriculum.
MORE: Teacher told students to hide 'equity survey' from parents: report
IMAGE: Francis Howell School District/Rumble.com
Like The College Fix on Facebook / Follow us on Twitter