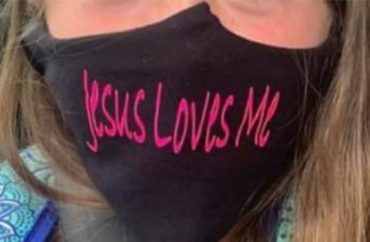 'Black Lives Matter' and sports logos allowed on masks, though
A Mississippi elementary school retroactively banned religious expression on face masks a day after ordering a student to remove her "Jesus Loves Me" mask, according to a federal lawsuit filed Monday against the school district, board of education and individual officials.
Online metadata show the mask policy was modified less than an hour after Lydia Booth's mother called the school demanding to know why she was required to remove her religious mask (above) the previous day.
The Alliance Defending Freedom is representing the nine-year-old and her parents Matthew and Jennifer Booth. While she's referred to as "L.B." in the lawsuit, the public interest law firm identifies her by name in a one-page case summary.
A teacher's assistant at Simpson Central School told Lydia Oct. 13 that she must wear a different mask after Principal Antoinette Woodall (below), one of the defendants, "stuck her head in L.B.'s class," the suit claims. Woodall looked at the mask, "winked" at the student "and then left."
The Booths claim that students and faculty have been observed wearing masks with expressive messages such as "Black Lives Matter" and the logos of the New Orleans Saints and Jackson State University.
By preventing Lydia from expressing her religious beliefs, the school district is violating her First and Fourteenth Amendment rights, the suit argues.
MORE: High school allegedly forces student to remove pro-Trump mask
This "censorship" that exempts "masks and shirts with secular messages is viewpoint discrimination." It is "not narrowly tailored to serve a significant government interest and does not leave open ample alternative channels of communication," as constitutionally required.
The plaintiffs are seeking injunctive relief, declaratory relief and nominal damages against the Simpson County School District and board of education. (Nominal damages are at issue in another school-speech case the Supreme Court is scheduled to hear early next year.)
Superintendent Greg Paes, another defendant, and his executive assistant did not respond to College Fix inquiries. The members of the Simpson County School Board also did not respond to multiple inquiries.
"While school administrators face challenges in helping students navigate school life during a pandemic, those officials simply can't suspend the First Amendment or arbitrarily pick and choose the messages that students can or can't express," Michael Ross, legal counsel for the alliance, said in a press release. He noted the incongruity of allowing students to wear "Black Lives Matter" masks and those with sports logos.
Lydia Booth "deserves an equal opportunity to peacefully express her beliefs," he concluded.
MORE: School district bans 'Homosexuality is a sin' shirt, allows gay pride symbols
Mask did not cause 'any disruption whatsoever' on previous occasions
The school district has required students and personnel to wear face masks "in all common spaces" since July 23.
Before Oct. 14, however, the only regulation for the messages they can carry was found in the student dress code, according to the suit. It prohibited all "clothing advertising alcoholic beverages or drug culture, clothing with obscene language or gestures or clothing of any suggestive nature."
Jennifer Booth was bewildered by the order given to her daughter Oct. 13, since Lydia had worn that mask to school "multiple times" before and it did not cause "any disruption whatsoever," according to the suit. On Oct. 13 itself, no student became "visibly upset or distracted" or objected to the message.
Even when one of Lydia's teachers told her Oct. 8 that she could not wear a mask with words on it, that teacher did not make her change her mask.
MORE: ADF sues Oregon for banning the reopening of religious schools
Jennifer Booth could not "find any such policy" banning masks with words, asking in a private Facebook post "whether any of her friends was aware" of such a policy. She said her daughter would continue to wear the "Jesus Loves Me" mask. (The suit doesn't give the date of the post and also refers to it as a "message.")
Principal Woodall contacted the mother the day Lydia was ordered to change her mask, saying the school was made aware of Jennifer's private Facebook post. Woodall claimed that "the student handbook prohibits religious messages on masks" and referenced the student dress code.
When Booth retorted that the religious message on her daughter's mask was "not obscene and does not reference alcohol or drugs," the principal said she would contact Assistant Superintendent Robert Sanders "to obtain the specific policy."
Soon after the call with Woodall, Booth again verified that no such policy existed, and consulted the Mississippi Student Religious Liberties Act, which states that no local school district can discriminate against students based on their expression of religious perspectives. The lawsuit also notes that this law is incorporated into the "Parent/Student Handbook."
'No religious statements' suddenly appears in mask policy
That same afternoon of Oct. 13, Jennifer Booth emailed Woodall and Superintendent Paes, demanding an apology and her daughter's right to wear her "Jesus Loves Me" mask. While Woodall responded that she had forwarded the email to district office personnel, the principal "did not substantively respond to any of Jennifer's requests," according to the suit.
Having received no further response from Woodall by afternoon Oct. 14, Booth emailed Sanders, the assistant superintendent, at 1:44 p.m. Less than an hour later, the online policy was modified with the added line: "(No political, religious, sexual or inappropriate statements are allowed on mask)."
Sanders called Booth at 2:56 p.m., stating that Woodall had incorrectly cited the student handbook as prohibiting the "Jesus Loves Me" mask. Instead, the suit claims that Sanders pointed her to the July 23 mask policy requiring masks to be worn by all students and personnel and said that he would send Booth a copy of the policy via email.
When she asked how a religious message on a mask is different than one on a t-shirt, Sanders said the message is "right in your face with a mask." The suit claims the assistant principal told the mother he would send the policy to the district's attorney.
Sanders emailed her the mask policy at 3:14 p.m. Metadata show that Sanders altered it at 2:41 p.m., before the phone call, by inserting the new line (below) and nothing else.
MORE: Court reinstates student leader unconstitutionally removed for Catholic beliefs
The following day, Superintendent Paes made an announcement to parents and staff across the district. All masks with "political, religious, sexual or any inappropriate symbols, gestures or statements that may be offensive, disruptive or deemed distractive to the school environment" would be prohibited.
The result of the surreptitiously revised mask policy has been to "chill and deter L.B.'s (and other students') expression," the lawsuit claims.
Because Lydia fears she'll once again violate the "Religious Speech Policy" and thus be "subjected to punishment, including detention and possible suspension," the girl is abstaining from wearing her "Jesus Loves Me" mask – a severe violation of her constitutional rights.
The current policy grants "school officials unbridled discretion to censor L.B.'s religious expression while permitting other students to express their messages" in violation of the First Amendment's free exercise clause and due process, the alliance argues.
MORE: Student senate president removed for privately stating Catholic teaching
IMAGE: Alliance Defending Freedom
Like The College Fix on Facebook / Follow us on Twitter