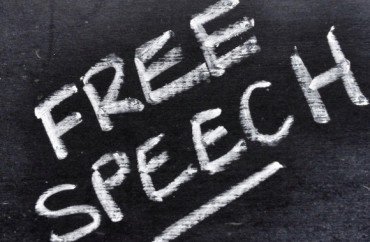 A school district in Wisconsin has established a new policy in which speakers must submit their speeches two weeks in advance, and also swear an oath not to deviate from prepared remarks.
The Appleton Area School District drafted the regulations after a pastor — who's also a school board member — used "Christian themes" in a June graduation speech.
According to the Appleton Post-Crescent, Reverend Alvin Dupree said in the speech that his "source of strength is his faith and relationship with Jesus Christ," and he "invited fellow Christians to applaud in agreement."
Dupree's other, er, sin was altering his closing statement from "best wishes" to "God bless."
The Freedom From Religion Foundation and a group of 29 students complained to the district about Dupree's speech. The former also was miffed that the district did not take "appropriate action" against him. According to the FFRF's Ryan Jayne, the group has sent three complaints to Appleton about Dupree in the last two years.
Dupree called the new rules "bullying" and a "direct attack on the First Amendment."
"I'm not trying to force anyone of any faith or any religion or belief to think as I do," the reverend said. "I think everyone should be allowed to freely express who they are as an individual."
The guidelines emphasize that being invited to speak at a district event is a privilege and not a right, and therefore guidelines do not limit individual rights.

The guidelines are also "not a mandate," according to the document, because the district and superintendent can enforce them at their discretion.

As students and FFRF requested, the guidelines require that speeches be written and submitted to the superintendent for review at least two weeks in advance.

The guidelines also state that speakers must disclose whether they intend to wear jewelry, clothing or accessories that could be understood to communicate a message to the audience when the speech is given.

Speakers must also swear in writing, with a notary, and under oath that they will deliver the speech as they wrote it and not wear materials that hadn't previously been approved for the event. "Minor and immaterial variances" — unplanned statements like "thank you" or "it's nice to be here" — would not be considered violations.

In the event that a speaker refuses or fails to deliver a speech as written, the superintendent may "take remedial action, in his/her discretion, to address any behavior exhibited by a speaker during his/her speech, as the Superintendent deems necessary or appropriate," according to the document.
Dupree and the Wisconsin Institute for Law and Liberty worry about the decision-making power one person, the superintendent, has.
The WILL contacted the district shortly after the Dupree incident informing it that the reverend's words did not violate the First Amendment, but the subsequent new rules do: "unconstitutional viewpoint discrimination," WILL lawyer Anthony LoCoco said.
Dupree noted the new guidelines "can't be considered a policy" because, as the district document says, they're "not a mandate."
MORE: Anti-religion group demands public universities fire football chaplains
MORE: University of Tennessee stands firm against atheist group
IMAGE: Shutterstock.com
Like The College Fix on Facebook / Follow us on Twitter