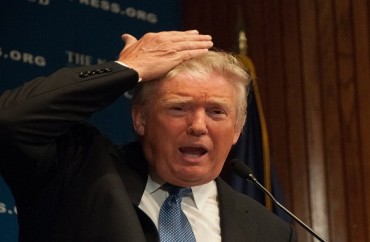 An employee of the Los Angeles Unified School District was "removed" from her position at a district school after she yelled "Build the Wall!" at picketers who appeared to be blocking her from leaving the premises.
District teachers have been on strike since Monday.
The South Gate Middle School staff member can be seen attempting to exit through a gate, but it seems strikers are in her way. You can hear the woman being told by picketers to "get back inside!"
According to The Los Angeles Times, after picketers began chanting "Whose house? Our house!" the employee rolled down her window and said "This is my home. This is America." She added the picketers "don't really care about the education of students in the building," due to the strike.
As she is rolling up her window she yells "Build the wall! All you guys wouldn't be here."
how rude and disrespectful @LASchools pic.twitter.com/W5X1GlT7SD

— Andrea Alvarado (@anddreaa24) January 16, 2019
According to a teacher at the school, the employee "already had earned a bad reputation" with the picketing teachers since the strike began.
She made obscene gestures at them on the first day, [Patricia] Alvarez said, and had also apparently revved her car engine when a teacher was in front of it.

"That was Day 1," she said. "We thought, who is this lady? Maybe the aggression came from days prior."

People told Alvarez that the same woman harassed strikers at nearby South Gate High School on the second day of the strike. Teachers at the two schools had never seen her before, she said.

South Gate Middle School is overwhelmingly Latino, Alvarez said.

"That's what's so offensive …. That's deeper than the picket line. That's a racial comment."
The district tweeted that the behavior of the woman — who the Times says was identified on social media — was "inexcusable" and "directly contradicts the mission and values" of the district.
Many questioned why the woman was "removed" and not "fired." The most likely explanation is that the employee will be reassigned to another position within the district.
MORE: Cornell in uproar after frat bro yells 'build a wall' near Latino center
MORE: Democrats demand federal ban on saying 'build a wall' in public schools
IMAGE: Shutterstock.com
Like The College Fix on Facebook / Follow us on Twitter