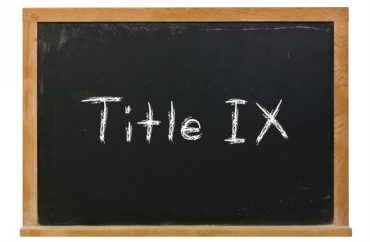 Cited 'sexual immorality' as reason for dismissal
A Christian college is refusing to discuss possible Title IX implications for suspending a student after she underwent a double mastectomy as part of her transgender transition. The student claimed she did not violate any specific school policies. The school's president, meanwhile, has argued that the institution treated the student "with love, respect, compassion, sensitivity, and privacy."
Welch College suspended Yanna Awtrey after she received "top surgery." Awtrey was living in the dorms at the time and had been taking synthetic testosterone pills for several months. The Tennessean reported that the school, which is owned and operated by the National Association of Free Will Baptists, suspended her on the day she received the mastectomy.
Vice President of Student Affairs Jon Forlines sent Awtrey an email following the surgery, saying she was not allowed back into the dorms. In the email, a copy of which Awtrey provided to The College Fix, Forlines told heR: "Please be aware that because of the choices you have made we will not be able to allow you to come back to the dorm. However, I can arrange for you to stay in a local hotel for the next week and we can give cash to you to spend for food."
Awtrey told The Fix that she was "surprised by the timing of the email."
"The college knew I was vulnerable — financially, socially, physically. When I thought of them possibly finding out about the surgery, I had assumed they would at least help me while I was going through my recovery period (2 months) by letting me stay in the dorm I had paid for the summer," she said in an email interview. (Awtrey told The Fix she didn't mind "if you use she/her pronouns or call me a woman in the article.")
"They cited the handbook which included the phrase 'sexual immorality.' They did not have anything transgender-specific or surgeries included in the legal wording. A small disciplinary committee said the reason was for me identifying as transgender," Awtrey said.
"They told me to move everything out of my dorm as soon as possible, and I had no place to store it or the physical ability to move it. I put myself in a dangerous situation by just having to organize all my things within 4 days of a major surgery and had to rely on others to move everything."
It is unclear in what context the school determined the surgery constituted "sexual immorality." Awtrey said she could not access the handbook because her school account was locked. A request by The Fix for a digital copy of the handbook on the school's website went unanswered.
Awtrey said the school wouldn't confirm how they found out about her surgery. She said the school was likely informed by the family friends with whom she was planning to stay after the surgery; she had not informed those friends of the specifics of the operation. "They visited me at the hospital afterwards and told me that I would not be staying with them, and then seemingly contacted my college," she said.
Move may have violated federal law
At least one official from the Department of Education, in another context, has indicated that this situation might qualify as a Title IX violation.
When the Department of Education told BuzzFeed News in February 2018 that transgender bathroom complaints were not covered by Title IX, since "long-standing regulations" protect sex-segregated facilities, spokesperson Liz Hill said it was not a blanket rejection of transgender complaints.
"When students, including transgender students, are penalized or harassed for failing to conform to sex-based stereotypes, that is sex discrimination prohibited by Title IX," Hill told the publication.
The Department of Education did not respond to queries from The College Fix this week asking if Awtrey's situation qualified as a student being "penalized or harassed for failing to conform to sex-based stereotypes." The department confirmed it had received The Fix's query, but nobody at the department responded further before press time.
Shortly after the BuzzFeed article was published, the department's Office for Civil Rights told a religious college seeking a Title IX exemption that it didn't need to "submit a written statement" ahead of claiming an exemption.
Colleges don't need to request exemptions, but can seek a "request for assurance" from the office that it will recognize a college's exemptions from specific parts of Title IX regulation that violate its articulated religious tenets, according to the office.
The letter continued that colleges can invoke their exemption after the government receives a Title IX complaint.
It's not known whether Welch College asserted a Title IX exemption before the Trump administration changed its predecessor's policy, which required colleges to proactively seek an exemption. The school's Title IX officer, Craig Mahler, did not respond to queries from The Fix on Wednesday asking about any exemptions the school may have asserted.
The 2019 "Shame List" maintained by LGBT group Campus Pride, which identifies colleges that have "chosen to openly discriminate against LGBTQ youth and/or have requested Title IX exemptions," does not mention Welch College. It was released months before Autrey was investigated.
School silent on legal aspect
The Fix reached out to Welch College media relations to ask about the grounds on which Awtrey was suspended, if students are allowed to be openly LGBT on campus, and whether the school can reconcile its decision with Title IX and its regulations.
Campus spokesman Josh Owens told The Fix that he was "not authorized to answer any questions regarding this." Owens directed The Fix to a statement from President Matt Pinson.
In his statement, Pinson did not address the possible legal ramifications of the dismissal.
"On Friday, August 2, Welch College learned that one of its students had undergone surgery in an effort to conform her body to her belief that she is male. Given the incompatibility of such an action with the College's beliefs and expectations for members of its community, the College informed the student that while she could not continue living in a dormitory, the College would provide hotel accommodations and funds for food during her recovery period," the statement said.
"The College later offered to provide in-home health care for the student, which the student declined, stating she did not need it. Reports that the College responded inappropriately or unlovingly to the student's situation are inaccurate."
Pinson says the college's desire is "to show individuals experiencing gender confusion the love and compassion of Christ while bearing witness to God's design as revealed in Holy Scripture for his human creatures as male and female."
"Throughout Yanna's time at Welch, we have treated her with love, respect, compassion, sensitivity, and privacy, though we always clearly communicated our community standards regarding gender identity. We at Welch love Yanna and have shown her that love in a way that accords with our deeply held religious beliefs," he added.
The statement does not specifically say that Awtrey was disciplined, however. It implies that she violated its "community standards" by engaging in "behaviors that constitute a rejection of the divine design for human sexuality."
Awtrey said she has received both pushback and support in the midst of the controversy.
"I have received polite derision and a few private messages of support. The most touching messages have been from long-time graduates of Welch College messaging me on how they have been in the same position as I have been for their sexual orientation and gender identity," she said in her interview with The Fix.
Awtrey said she feels "lost," given that there are no official LGBT student groups on Welch's campus.
"I grew up surrounded by the Christian community my whole life, with years planned out for me, and now it's been pulled out from under the rug. However, I'm still trusting God to help me through it," she said.
MORE: Transgender student sues Christian university for right to live in male-only dorm
IMAGE: CLS Digital Arts / Shutterstock.com
Like The College Fix on Facebook / Follow us on Twitter