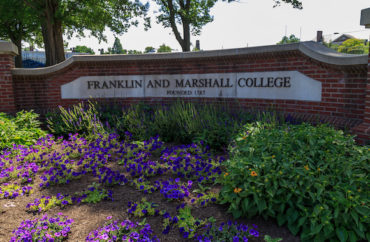 One student said it was on-campus, but couldn't say where
Students at Franklin & Marshall College have held numerous high-profile demonstrations after some of their classmates dressed up as ethnic stereotypes on Halloween. Yet it is not clear if these incidents took place on school grounds; the school has refused to say, and one student who claimed the incident was on-campus confessed she didn't know where it happened.
The controversy began after several photographs surfaced, one of which showed two students dressed up in dual costumes as "José" and "Cuervo." Another photograph depicted a student dressed in a conical hat and a necklace of what appear to be some kind of sauce packets; in that same photo, another was dressed in a sombrero and a bandolier, apparently as a satirical send-up to Pancho Villa.
The costumes ignited a wave of outrage and emotion at the Pennsylvania college. Students and faculty held a joint rally on Nov. 8 in protest of their peers' costume choices. Rally attendees were photographed weeping and were quoted demanding "structural change" and that the costumed partygoers face consequences.
Protests have been numerous. In one instance, students staged a sit-in at a basketball game, which prevented the match from taking place. In another instance, activists disrupted the national anthem at a soccer game.
School won't confirm if event took place in on-campus building
In spite of the ongoing protests and unrest, it is not at all clear if the incident actually took place in any on-campus buildings or anywhere on campus.
Reached for comment via email, Emily Ly, the vice president of the school's Asian American Alliance, claimed that the party took place on campus. Yet when pressed, Ly said she could not confirm its location. "I unfortunately do not have that information," she told The College Fix. Members of the Asian American Alliance have been vocal in speaking out about the costume incident.
The Fix reached out to the school's media relations department multiple times asking if the party had been held on campus property. The Fix also asked about any possible sanctions the students may have been facing from the university. After multiple emails, campus spokesman Gregory Wright responded: "Due to federal privacy laws and the fact that student judicial proceedings are ongoing, we are unable to comment on any details about the incident you cite or on any possible sanctions."
Wright did not respond to a followup email asking if the school could simply share whether or not the event was on- or off-campus.
The school's student code allows for student sanctions for behavior committed off-campus, though the code stipulates that the behavior must meet certain criteria to qualify, such as "infring[ing] on the rights or property of self or others," "breach[ing the peace and/or caus[ing] disruption," and being "detrimental to the educational mission and/or interests of the College."
President promises extensive list of 'actions'
The office of the school's president, Barbara Altmann, did not respond to requests for comment on the controversy. But Altmann has been outspoken about the incident, writing that there is "no place at F&M for racist actions and cultural appropriation" and urging the school to "be better than this."
Altmann's office has also released a list of "action steps" the college plans to undertake to meet demands made by student protestors. This list includes plans to launch a mandatory "diversity educational program" as part of freshman orientation starting in 2020. The school also promises to implement an online "bias reporting system" that students will use to report offensive behavior from their schoolmates.
The school furthermore intends to hire its first chief diversity officer by next July.
This is not the college's first controversy involving Halloween costumes. Three years ago two fraternity members apologized to the campus community for dressing up as "a rapper and a prison inmate" during a Halloween party.
MORE: Majority of students want offensive Halloween costumes to be punished
MORE: School threatens to investigate Halloween parties that 'reinforce stereotypes'
IMAGE: George Sheldon / Shutterstock.com
Like The College Fix on Facebook / Follow us on Twitter