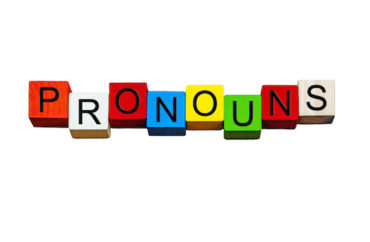 Students instructed in pronoun options like 'co' and 'kit'
Several schools are remaining silent on the effectiveness of their LGBTQ-inspired attempts to shift pronoun customs on campus, though one official said that their campus's efforts have largely been unsuccessful.
Cornell University, Bryn Mawr College and the University of California, Davis are among the growing number of colleges in the United States instructing their students on using each others' preferred pronouns. Each of the three schools suggests that students ask each other what their preferred pronouns are. The schools educate students on various types of alternative pronouns, such as "zie" and "hir."
On Cornell's Gender Inclusive Pronouns page, part of the school's Diversity and Inclusion website, students are instructed that it is "best to ask" acquaintances for their preferred pronouns.
"Remember that people may change their pronouns without changing their name, appearance, or gender identity. Try making pronouns an optional part of introductions or check-ins at meetings or in class," the website instructs. The school's public relations department did not respond to requests for comment.
While the website acknowledges that remembering everyone's preferred pronouns may be a difficult task, it recommends that students practice using them so they can show "respect for people of every gender."
A document linked on the website of Bryn Mawr College's Pensby Center for Community Development and Inclusion tells students that "asking for pronouns can prevent emotional distress from happening, and sets an example of respect." Though the school suggests having "regular check-ins" with people in order to be sure of their preferred pronouns at any given time, it warns students against being too curious when speaking with transgender individuals.
"Do not ask about a person's body, their potential former names, their gender, why or how they know they are a certain gender, their sexual practices, or any other questions that are invasive unless the person invites you to ask," the school instructs students.
The document, titled "Asking For and Using Pronouns," suggests a total of ten different pronouns that students might use on campus. In addition to standard pronouns such as "he" and "she," the school lists such variants as "it," "sie," "co" and "kit."
The Pensby Center and the school's public relations department both did not respond to questions about the pronoun instructions, including whether or not students on the campus are respectful of each others' pronoun preferences.
Rules followed 'only in selective circles'
As part of its pronoun guidelines, the University of California, Davis's LGBTQIA Resource Center recommends that students use gender neutral terms whenever possible. For example, they recommend addressing a group of people as "everyone" or "y'all" instead of "guys" or "ladies" and replacing the term "freshman" with "first year".
When asked by The College Fix about its efforts to influence students' pronoun usage on campus, Monae Roberts, the interim director of the school's LGBTQIA Resource Center, said the school has not actually tracked the status of students' pronoun usage on campus. She admitted that getting students to respect everyone's pronouns is still a work in progress.
Though among certain staff "pronouns are very important and respected," Roberts said she does "not believe this to be the case throughout campus."
"We hope to change that in the future. Using someone's proper pronouns is a step toward inclusion and a departure from making assumptions based on one's appearance which is a harmful practice," she added.
Roberts said that there while there is currently no active campaign on campus pushing to educate students and faculty about pronoun usage, she herself has worked with a committee to develop a proposal for the school's chancellor "to address issues related to gender inclusive language and systems."
Among the various pronouns listed on the LGBTQIA Resource Center's pronoun page, suggestions include "xie," "en," "ey," "yo," "ve" and "co." According to Roberts, the document comes from a "trans allyship workbook."
MORE: Student official rejects preferred gender pronouns, faces a recall
MORE: The transgender pronoun war is coming to your university
IMAGE: Ed Samuel / Shutterstock.com
Like The College Fix on Facebook / Follow us on Twitter