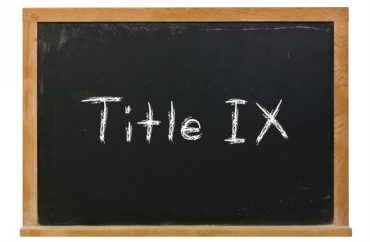 One university official vows to investigate single-sex financial aid
Several universities offering some scholarships solely to female applicants may be in violation of federal education regulations – and most are refusing to comment on the potentially discriminatory financial aid.
The University of California, Davis offers at least two scholarships exclusively to women through the Women's Resource and Research Center. The university's Ellen Hansen Memorial Prize is "awarded annually to a … woman-identified student," while the center's Eva Shicke Memorial Prize funds female students wishing to pursue gender-related research.
The center's Graduate Summer Research Award "invite[s] applications from students with marginalized gender identities," among which it lists "women, transgender, non-binary, and gender non-conforming folks." It is unclear if men are excluded from applying.
Wendi Delmendo, the chief compliance officer of the school's Office of Compliance and Policy, told The College Fix that she was "unaware of these scholarships." She said she would be launching an investigation into the matter to ensure Title IX compliance.
Asked if she was able to say when the investigation would be complete, Delmendo said she was "not able to give [The Fix] a firm deadline of when this work will be completed."
Scholarship in violation of university's own policy
At Arizona State University, meanwhile, the Worthy Women's Scholarship is "intended for women" in order to "support women as they pursue their academic careers."
According to its Nondiscrimination Policy, the university pledges to "increase participation in programs and activities by all faculty, staff, and students without regard to … sex [and] gender identity." Yet the Worthy Women's Scholarship states in its "Criteria" section that the "applicant must identify as a female."
When pressed for comment, Arizona State's Title IX Coordinator, Jodi Preudhomme, referred The Fix to the university's media relations office. Gerardo Gonzalez, a campus spokesman, defended the Worthy scholarship on account of its privately sourced funding.
"Why would we receive Title IX complaints about a scholarship that is coming from a private donor? In this case it appears to be a business. It's not funded with university money. Since it's their money, why wouldn't they be able to set whatever criteria of their choosing? I am confused by your questions," Gonzalez said.
ASU's Worthy Women's scholarship is indeed funded by Worthy, Inc., a privately owned company based in New York City. But Title IX states unambiguously that "no person in the United States shall, on the basis of sex, be excluded from participation in, be denied the benefits of, or be subjected to discrimination under any education program or activity receiving Federal financial assistance," making no mention of any such exceptions for scholarships with private sources of funding.
Title IX regulations do stipulate that single-sex scholarships "established pursuant to domestic or foreign wills, trusts, bequests, or similar legal instruments" may restrict recipients to one sex, provided that "the overall effect of the award of such sex-restricted scholarships, fellowships, and other forms of financial assistance does not discriminate on the basis of sex." As the Worthy scholarship is apparently funded by a private company and not a "will" or "trust," it would not seem to qualify.
Academic has successfully challenged multiple single-sex scholarships
Economist Mark Perry of the University of Michigan-Flint, who has formally challenged several gender- and race-restricted awards at multiple universities, disputed the contention that privately funded scholarships are free from Title IX oversight.
"It's my understanding that the source of funding is irrelevant for Title IX compliance, and in fact almost all university scholarships and awards are privately funded," Perry, who is also a scholar at the American Enterprise Institute, told The Fix in an email:
Title IX states very clearly that "No person in the United States shall, on the basis of sex, be excluded from participation in, be denied the benefits of, or be subjected to discrimination under any education program or activity receiving Federal financial assistance."
Perry noted that at his own campus, he "successfully challenged three female-only faculty awards that were all privately funded … and the Title IX Office agreed that those awards violated Title IX" and opened them to all faculty.
"Most universities would never accept scholarship funding from an organization that restricted eligibility to white males only (or males only), so they shouldn't be allowed to award scholarship funding to minority females only (or females only), if Title IX is applied consistently without double-standards," Perry said.
Numerous schools amending scholarships
Perry has successfully challenged single-sex scholarships at other schools, as well. Last October, the University of Minnesota opened three women-only scholarships to men after Perry sent a complaint to the Title IX office there.
Prior to that, the school's Carol E. Macpherson Memorial Scholarship was restricted to women 28 and older, while its Dr. Nancy Barceló Scholarship was restricted to women "with a special focus on women of color, new immigrants, and first generation college students." The university's Sharon L. Doherty Award was similarly reserved for women with "outstanding volunteer service concerning women's issues on campus or in the broader community."
After examining the Macpherson scholarship, Equal Opportunity and Affirmative Action Director Tina Marisam told Perry that it would be opened up and offered outside of the Women's Center. The university web pages for the other two scholarships have been scrubbed of any mention of preference for race, gender identity or age.
Tulane University, meanwhile, resolved an investigation by the Department of Education's Office for Civil Rights late late year by promising to review several financial and "experiential" programs for women.
The agreement requires Tulane, a private university, to "ensure that it is not treating male students differently on the basis of sex by providing different amounts or types of financial assistance, limiting eligibility for financial assistance, applying different criteria for financial assistance, or otherwise discriminating" in financial assistance.
It also must give OCR a "narrative" explaining any "alterations" to the programs so that they comply with the agreement, and turn over its proposed Title IX training materials for administrators who approve financial assistance and experiential learning programs. The agreement flatly requires training staff to know that "sex discrimination against men" violates Title IX.
Two other universities that offer female-only scholarships did not respond to The Fix's requests for comment. Wright State University's Women's Center hosts at least one woman-only scholarship that is in direct violation of the school's own non-discrimination policy, which forbids sex discrimination "in employment, admission, treatment, or access to its programs or activities."
Similarly, Ohio State University's "Pathways for Women's Excellence in Supply Chain" scholarship stipulates that only women may apply for it; that appears to run afoul of a university-wide policy to "not discriminate on the basis of … gender identity or expression," or sex.
MORE: Scholarship and award opened to men after Title IX complaint
MORE: School under federal investigation for women-only scholarships
IMAGE: CLS Digital Arts / Shutterstock.com
Like The College Fix on Facebook / Follow us on Twitter