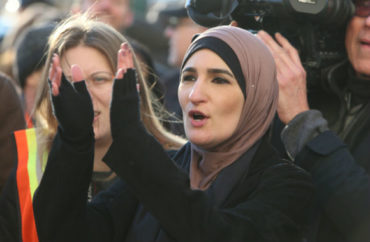 Jewish group calls decision 'utterly appalling'
Several schools are facing criticism for inviting and hosting an anti-Israel activist to speak at conferences on their campuses, with one Jewish group calling the activist a "bigot" and a "Jew Hater."
Linda Sarsour, known for her work on the Women's March as well as other feminist-related activism, recently headlined the University of North Carolina, Chapel Hill's Minority Health Conference. According to a report on the news website The Tower, Sarsour's keynote speech contained "precious little" about actual health, though the activist did find time to criticize Israel during the event.
During her talk, Sarsour pointed out that she is a supporter of the anti-Israel "boycott, divestment and sanctions" movement, which seeks to single out Israel and impose harsh penalties on it in order to force it out of purported Palestinian territory.
According to an event listing on UNC's website, Sarsour's talk there focused on "why advocacy is important, her path as an advocate, the spectrum of advocacy and application to the field of public health."
According to The Tower, one student told the publication: "One would expect an academic conference on public health to focus on public health." The publication also reported that community members were planning a protest against Sarsour's appearance.
Sarsour was in the spotlight late last year when leaders of the Women's March, which Sarsour has co-chaired multiple times, were accused of anti-semitism. Multiple sponsors pulled their support from the march after the allegations.
Sarsour will also be speaking at New York University next month, giving "a lecture on migration, refugees, and the politics of sanctuary." The pro-Israel Zionist Organization of America slammed the university's decision to invite Sarsour, with the president of the organization calling her "a bigot, a Jew hater, an Israel hater and a divider."
In its announcement slamming New York University's decision, the Zionist Organization of America listed several incidents from Sarsour's "record," such as:
In 2017, she shared a platform with, and extolled the virtues of, convicted Palestinian Arab terrorist Rasmea Odeh, who is responsible for the murder of two Israeli university students in a 1969 Jerusalem supermarket terrorist bombing. At that event, Sarsour gushed that she "honored and privileged to be here in this space, and honored to be on this stage with Rasmea."

Sarsour has openly associated with America's most prominent, avowed veteran anti-Semite, Nation of Islam leader Louis Farrakhan, tweeting in praise of him in 2012 that, "When we write the history of Islam in America, the Nation of #Islam is an integral part of that history." In 2015, during a speech at the 20th anniversary of Farrakhan's 'Million Man March,' Sarsour stated, "The same people who justify the massacres of Palestinian people and call it collateral damage are the same people who justify the murder of black young men and women." (Farrakhan said in a 1984 speech that "Hitler was a very great man," called Judaism the "synagogue of Satan" and a "gutter religion," warned Jews in 1985, "don't you forget, when it's God who puts you in the ovens, it's forever!," and recently referred to Jews as "termites").

Sarsour openly and ardently supports the anti-Semitic Boycott, Divestment and Sanctions (BDS) movement against Israel and opposes Israel' right to exist, expressing her hatred with tweets like the following: "Nothing is creepier than Zionism" and "[Israeli Prime Minister Benjamin] Netanyahu is a waste of a human being."
Sarsour "has neither explained, nor withdrawn, nor modified her past anti-Semitic statements or expressed remorse, or even second thoughts, for having publicly associated on platforms with a prominent anti-Semite like Louis Farrakhan or a convicted, blood-soaked terrorist like Rasmea Odeh," the president of the pro-Israel group said, declaring that New York University's decision to invite Sarsour is "utterly appalling."
Read The Tower's report here, and the Zionist Organization of America's release here.
MORE: UConn hosts speaker who once called for 'jihad' against U.S. 'fascists'
IMAGE: a katz / Shutterstock.com
Like The College Fix on Facebook / Follow us on Twitter