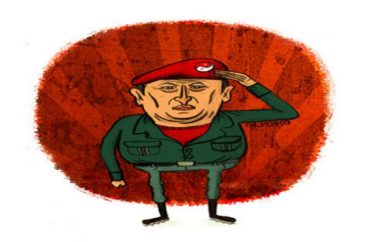 The small California women's institution known as Scripps College is hosting representatives from Nicolás Maduro's socialist Venezuela for a series of panels from April 9 through the 11.
According to the Claremont Independent, Venezuelan Consul-Generals Antonio Cordero and Jesús Chucho García will discuss topics such as "African solidarities," "coups and imperial wars," and Venezuela's "new society rooted in political participation, communal economies and democracy."
The discussions will be hosted by history professor Cindy Forster who, according to her faculty page, contributed a book chapter titled "'Not in All of America Can There Be Found a Country as Democratic as This One': Che and Revolution in Guatemala," and has in progress a collection of "oral histories of campesino and working-class members of movements for social justice across Latin America and the Caribbean."
The email invitation obtained by the Independent opens with three smiling (Venezuelan) women holding placards stating (English translations) "We won't rest until the revolution is made irreversible," and "NO to Yankee imperialism."
Monday's session, "Venezuela's Challenge: Against War and a Unipolar World," notes that Cordero is an "expert on military questions and resisting rightwing paramilitary attacks; Tuesday and Wednesday feature respectively "No Volverán" ["They Won't Return"]: Venezuelans' Exercise of Popular Democracy from the Streets to the Polls," and "Maroon Legacies and Afro-Venezuelan Organizing in Venezuela's Bolivarian Revolution."
The description of the last panel states
Despite the increase in economic sanctions from powers such as the United States, Canada and the European Union, the Bolivarian Revolution has built 2 million homes across the country for working class families in the last five years. Victims of natural disasters are prioritized among the new homeowners. Health care and education are universal and free. Venezuela is working to innovate its economy by expanding truekes (grassroots trade networks), cryptocurrencies (such as the Petromoneda ) and investments in international cooperation across the Global South.

In recent days, Venezuela has called on peoples of the Global South to build a systematic campaign on reparations for the righting of historical wrongs such as slavery and genocide, coups and imperial wars.
As the Independent points out, omitted from the sessions are inconvenient factoids such as Venezuela's massive food shortages in which the average person has lost 20 pounds, the incarceration of hundreds of political prisoners in the last year alone, and a housing "solution" based on the forced sale of property upon penalty of confiscation.
Read the full Independent story.
MORE: U. Wisconsin honors Hugo Chávez sycophant with achievement award
MORE: Professors laud Chávez as Venezuela's savior
IMAGE: elkokoparrilla/Flickr
Like The College Fix on Facebook / Follow us on Twitter