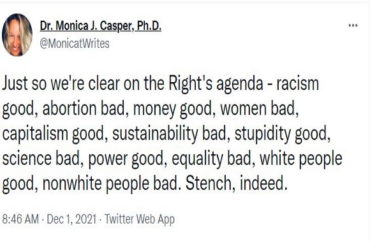 A dean at San Diego State University who posted a series of tweets demeaning conservatives has been publicly rebuked by her boss.
San Diego State University President Adela de la Torre published a statement Jan. 3 that condemned College of Arts and Letters Dean Monica Casper's choice of words.
Casper, who is also a sociology professor, tweeted Dec. 1: "Just so we're clear on the Right's agenda: racism good, abortion bad, money good, women bad, capitalism good, sustainability bad, stupidity good, science bad, power good, equality bad, white people good, nonwhite people bad. Stench, indeed."
Last month Casper also reacted to the opening Supreme Court arguments of Dobbs v. Jackson by tweeting: "Two sexual predators, a white lady, and some racists walk into a courtroom." The case is considering a Mississippi ban on abortions at 15 weeks; it could be used to reverse Roe v. Wade.
Casper has deleted her Twitter account, however her tweets were screenshot by The College Fix, which first reported on them.
De la Torre, in her statement, said that as "we closed out 2021, a difficult year for many people, we know there are those who are hurt and unhappy about Twitter posts by SDSU Dean Monica Casper."
"I will always stand by the right to free speech, but I do not condone or agree with what she said. I do not support actions that seek to divide us or undermine civic discourse for any reason," de la Torre continued.
— Adela de la Torre (@PrezdelaTorre) January 3, 2022
"At SDSU, we welcome everyone. We benefit from learning from one another when we participate in civic engagement across the spectrum of social and political discourse, even when we disagree with one another. This is what makes our university great."
Reaction to de la Torre's tweeted statement was mixed, with some condemning the president and others saying she did not go far enough.
"Nothing short of firing that Dean will be a satisfactory resolution. Monica Casper is more than a faculty member. She has the power to hire, fire, promote and discipline. Her comments shredded her credibility. If a right wing dean tweeted the reverse, they'd be gone, immediately," replied Paul Krueger, a San Diego-based journalist.
In contrast, Alexandro Gradilla, an associate professor of Chicano Studies at Cal State Fullerton, replied: "This is an overreach of your role. We need brave outspoken campus leaders not minions and sycophants. Bravo to your Dean. I stand with them."
Casper had only been a dean for five months when the controversy hit. She was tapped for the job in August. At the time, she described her leadership style as "transparent, collaborative, optimistic, supportive, dependable, ethical, and strategic."
The San Diego Union-Tribune reports that Casper co-founded the Feminist Wire about a decade ago. The Wire describes its mission as providing "socio-political and cultural critique of anti-feminist, racist, and imperialist politics pervasive in all forms and spaces of private and public lives of individuals globally."
It added that "SDSU has been the site of several controversies in recent years involving freedom of speech and academic freedom."
"One of the uproars occurred in August when Robert Jordan, a longtime lecturer, used a cultural stereotype about Black people in an online class he was teaching on cinema. Jordan said he used the stereotype to make a historical point."
The university stood by Jordan. In a statement posted to Twitter, it said Jordan was showing examples of how racism has been portrayed in TV and film to "better understand the plight and continued struggles of people with different backgrounds."
It noted Jordan "insisted that the clip in no way represents his personal views or opinions."
In 2018, the House Education and the Workforce Committee canceled a hearing on the minimum wage because of a satire piece one of the invited panelists, San Diego State University economist Joseph Sabia, had written as a college student.
At the time, de la Torre did not offer a full-throated defense of free speech. She tweeted that she was "personally appalled" by his long-ago satire and implied free speech is not legitimate if it does not "challenge the spread of fear and intolerance."
MORE: House committee deplatforms San Diego State economist because of satire he wrote as a college student
IMAGE: Twitter screenshot
Like The College Fix on Facebook / Follow us on Twitter