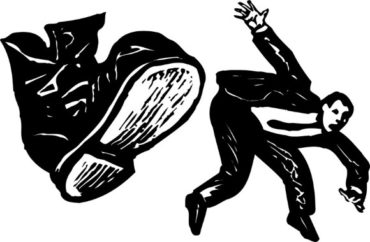 SDSU president 'personally appalled' by him, colleague appalled by president's 'wrath'
San Diego State University economist Joseph Sabia is the latest victim of media-driven unearthing of online posts written when the authors were much younger and less mature.
The House Education and the Workforce Committee has not only disinvited Sabia from its hearing on the $15 minimum-wage idea, but canceled the hearing altogether. Why? Someone found over-the-top satire he had written as a college student.
Politico broke the story Wednesday night on Sabia's 2002 blog posts, which he had long ago deleted but were preserved in the Internet Archive's Wayback Machine in 2003.
At the time a Ph.D. student at Cornell University, Sabia commented on a lawsuit against fast-food chains by a man who claimed they made him fat:
The agenda for liberals, of course, is the same as it was when they went after the tobacco industry: first demonization, second regulation, and finally taxation. Leaders on the fascist left are already referring to fast-food chains and junk-food manufacturers as "Big Fat." The Simpsons have already parodied attacks on "Big Sugar" so why not? …

How can right-wingers defend against these attacks on activities that may cause bad health outcomes? I humbly propose that right-wingers attach an amendment to every bill that taxes or regulates tobacco or high-fat foods. The right-wing amendment should tax and regulate homosexual acts.
It's obvious Sabia's satire is used to argue the government shouldn't interfere in people's choices simply because it disapproves of them on health grounds.
In another archived post, Sabia argued that women's studies departments were encouraging young women "to be whores" by trumpeting their sexual liberation from patriarchy.
Citing the book Who Stole Feminism? by the "Factual Feminist" Christina Hoff Sommers, Sabia wrote that feminism teaches young women "that equality is achieved by acting like promiscuous sluts."
Reiterating a common argument by social conservatives, he said "women have historically been the civilizing forces for men," so when they start acting like men, they tend to have more sex.
The spokesperson for House committee Republicans, who remain in the majority until the next Congress is sworn in, told Politico that "members were uncomfortable moving forward on the hearing" having seen what Sabia wrote in 2002 as a college student and has since deleted.
MORE: SDSU profs approve resolution to dump Aztec mascot
Seeking to head off damage to both their reputations, San Diego State and Sabia released a joint statement denouncing his 16-year-old deleted posts:
"I regret the hurtful and disrespectful language I used as a satirical college opinion writer 20 years ago," said Sabia. "I am a gay man in a long-term, committed relationship and these charges of homophobia deeply hurt both me and my family."

"My peer-reviewed professional work on veterans' health, school shootings, discrimination against LGBTQ individuals, the opioid crisis, and the minimum wage are a more accurate representation of my more than 14-year career as an applied microeconomist," Sabia continued.
The taxpayer-funded university said Sabia's long-deleted posts "are counter to the values of any institution which supports the principles of diversity and inclusion":
SDSU unequivocally rejects any sentiment which seeks to undermine or devalue the dignity of any person based on their gender, orientation, ability, or any other difference among people which has been an excuse for misunderstanding, dissension or hatred. …
It continued that freedom of speech "affords the responsibility to challenge and to oppose the spread of fear and intolerance. … SDSU promotes open expression of our individuality and our diversity within the bounds of courtesy, sensitivity and respect."
The College Fix has asked SDSU media relations if this language about "fear and intolerance" and "courtesy, sensitivity and respect" is leaving the door open to a university or department investigation of Sabia.
President Adela de la Torre also added uncertainty to whether Sabia may be investigated and punished, tweeting that she was "personally appalled" by his long-ago satire. She also implied free speech is not legitimate if it does not "challenge the spread of fear and intolerance."
Several responses in the tweet thread call for Sabia's punishment or firing.
MORE: SDSU offers Trump impeachment class (again)
My personal statement on the current conversation. SDSU, Sabia Release Statement in Response to Blog Posts published here: https://t.co/yF37PAgvUP pic.twitter.com/cgqRAA850w

— Adela de la Torre (@PrezdelaTorre) December 13, 2018
One of Sabia's colleagues is speaking out against those who would try to "ruin a man's career" based on an "ill-advised satiric column or two from 20 years ago, forgotten by all except the eternal memory of the web."
Peter Herman, professor of English literature at SDSU, writes in the Times of San Diego that Sabia is an "exemplary" professor who serves as principal investigator for "over a million dollars worth of grants."
He's published in top-tier journals on "the effect of gun laws on school violence, the minimum wage and drunk-driving fatalities," as well as the how medical-marijuana laws affect "labor market outcomes."
Herman apparently knows more about Sabia's situation than has been reported, saying a specific person on the House committee found his posts and "immediately" the committee canceled his appearance. He said Sabia contacted Politico directly to issue his apology.
Herman questioned whether the response from SDSU and President de la Torre was "justified" in light of the fact that Sabia's posts were satire in the vein of Jonathan Swift and his "proposal to solve Ireland's population problems by eating children."
Regardless of whether you agree with the young Sabia's libertarian argument, "in this column, Sabia is no more homophobic than Swift was a cannibal when he wrote, 'a young, healthy child, well nursed, is, at a year old, a most delicious nourishing and wholesome food,'" Herman writes.
The professor continues:
Sabia took these posts down quite some time ago. Since then, probably wisely, he has eschewed satire, restricting himself to writing formal academic papers. Nor is there the slightest hint of bias in his teaching record. I know. I was on one of the committees that promoted him to full professor.

So one has to ask whether two columns, published 20 years ago, long since deleted, albeit recovered through the magic of archive.org's "wayback machine," really should disqualify him from testifying before Congress, outweigh an exemplary career as a scholar-teacher, and bring down upon him the wrath of SDSU's president?
Read the Politico report and Herman's op-ed.
MORE: College Republicans targeted as hate group at SDSU
IMAGE: Shutterstock
Like The College Fix on Facebook / Follow us on Twitter