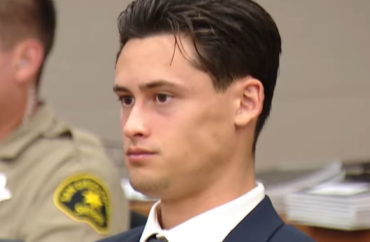 New information released this week details how former NFL Buffalo Bills punter Matt Araiza was not present at a party at the time when an alleged gang rape of an intoxicated 17-year-old that he's accused of taking part in occurred.
Araiza was a highly successful punter at San Diego State University, considered one of the best college punters in the nation, who lost his position with the Bills amid a media firestorm over the allegations.
Araiza has now reportedly "filed a claim against San Diego State University for damage to his reputation," ESPN reports.
According to newly released information, "Araiza couldn't have been present for the alleged attack, since he had left the house party an hour before it took place," KUSI reported.
ESPN this week reported on a December 2022 meeting between Araiza's accuser, her attorney and members of the San Diego District Attorney's office.
Prosecutors said Araiza was not present "when an alleged gang rape of a minor occurred at an October 2021 party, according to witness testimony included in evidence that prompted the San Diego District Attorney to not press criminal charges," ESPN reported, adding Araiza "also was not visible in any of the videos recovered from the night in question."
Outkick, which this week also reported on the newly released details of that December meeting, noted that "Araiza did engage in sexual activity with the accuser. However, he maintains that it was consensual and he did not know the girl was under 18."
Outkick reported:
"A witness who was in the house gave a statement saying that at — at least one point in the party, that you made a statement telling people at the party you were 18," [deputy district attorney Trisha Amador] explained to the accuser. "Another witness at the party, a different one, says that they specifically heard you say you were 18…

"The witnesses say … that shortly after you arrived at the party, you left and came back shortly thereafter," Amador said. "And you told [a friend], 'I just had sex.' … You appeared to be having fun and that the encounter on the side of the house with Matt, suspect Araiza, was consensual."

"You were approaching men at the party saying, 'I want you to [expletive] me and if you don't [expletive] me you're a [expletive]."

This newly released transcript explains exactly why the DA's office declined to pursue charges. There are videos that show sexual contact between the accuser and the other men — not Araiza — however, the DA's office says they do not indicate rape.

"There's nothing in the videos that sound like you're saying 'stop' or 'this hurts' or anything like that," Ted Mansour, an investigator for the San Diego County district attorney's office, said.
The Bills released Araiza in August 2021, shortly after a lawsuit was filed accusing him of rape.
Araiza told ESPN on May 9, in light of the new details that emerged this week, "I am deeply gratified for the thorough work of the DA's office in San Diego and for all the witnesses that were willing to come forward and tell the truth. I am thankful that the facts of this case as provided by the witnesses will prove that what I have been saying from the beginning is, in fact, the truth."
Araiza and two of his Aztec football teammates were cleared of facing criminal charges for the alleged gang rape, The College Fix reported in December 2022.
"[S]exual assault experts, including District Attorney prosecutors and investigators, meticulously analyzed all the evidence in the case, including over 35 taped witness interviews, the results of a Sexual Assault Response Team (SART) exam, DNA results, and evidence derived from 10 search warrants," the DA's office said in a news release at the time.
"…Ultimately, prosecutors determined it is clear the evidence does not support the filing of criminal charges and there is no path to a potential criminal conviction. Prosecutors can only file charges when they ethically believe they can be proven beyond a reasonable doubt."
But a civil case against the three athletes is still pending, and the accuser's attorney told ESPN his client was raped and the men are lying.
Meanwhile, Araiza's future NFL career remains unclear.
"With this new information now public, Araiza likely earns another shot at the NFL. Though, we don't yet know how teams view this new information," Outkick reported. "Teams might want to wait until the civil lawsuit plays out in court before making any decisions."
MORE: DA clears SDSU football players of gang rape claim: 'evidence does not support … criminal charges'
Like The College Fix on Facebook / Follow us on Twitter