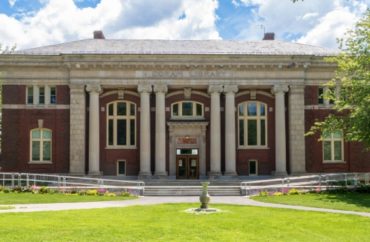 Bates College refuses to say whether officer will be fired or comment on ongoing investigation
Bates College has placed a campus security officer on leave and has launched an investigation after a video surfaced in which he said he and other campus officers are afraid to write up students of color because if a student of color were to lie about an incident, administrators would believe that student over the officer.
Also the officer, Dennis Skinner, was allegedly involved in forcibly tackling a student in a stairwell, possibly over miscommunications about showing his student ID, in another incident reportedly recorded.
The officer was placed on leave in early March at the private Maine-based campus, considered to be one of the "Little Ivy" schools.
"Like I said to him before, anytime that I usually deal with a person of color, I don't document nothing, ok? I really don't. I mean, because I'll tell you most officers, we are afraid," the campus security officer can be heard telling an unidentified student in the two-and-a-half minute video posted to Instagram on March 6 by a group called Bates Student Rights.
The video is completely blacked out, as if the recording is in a pocket or hidden somehow.
"Because–not saying that you would do it or somebody else–but, if a person of color lies, guess what? They're gonna believe that student over us," the officer is heard telling the student. "I've got a family. I've got grandkids. You know, I've been here for 25 years."
The video's caption identifies the officer speaking in the video as Skinner, the lead campus safety officer, and states the video was taken on Feb. 14.
The College Fix was unable to reach Skinner for a comment but The Bates Student newspaper and a local news outlet, the Sun Journal, confirmed his identity in news reports.
Bates College did not respond to multiple, repeated requests for comment from The College Fix over the last two weeks asking about the identity of the officer, the incident in the stairwell, videos taken of the officer, and the status of the investigation.
According to various reports and social media posts, there has been some ongoing tension between campus security and students of color at the school, which costs well over $50,000 per year to attend.
In mid-February, a student who identities as a Muslim had an apparent heart-to-heart conversation with Skinner that was recorded, according to an article in The Bates Student.
The video was possibly recorded surreptitiously by the student's roommate. It was in this conversation that Skinner conceded that he did not write up students of color for fear of his job.
But the recording was not published until one day after Skinner was involved in an incident in which a white student was allegedly tackled in some sort of tussle over showing identification.
A 20-second video "taken by a witness shows the first-year being restrained and handcuffed by two officers while yelling loudly in pain. One officer, maskless and identified as Lead Campus Safety Officer Dennis Skinner, can be seen wielding his nightstick. The student is forced to his knees, while continuing to scream for help," The Bates Student reported.
The tackling incident occurred March 5, and on March 6 Bates Student Rights posted the privately recorded conversation from mid-February on its Instagram page.
The two students who had recorded the officer told the student newspaper that they never intended to publish the video but "changed their minds after they witnessed their friend be restrained and handcuffed by Officer Skinner and a second unidentified officer."
The student newspaper does not identify the two students other than to say the student in the video who is heard speaking to Skinner is Muslim.
According to The Bates Student, a day after the video was posted, Vice President for Campus Life and Dean of Students Joshua McIntosh told students in an email that an officer had been placed on leave but did not name the officer.
"To be clear, differential enforcement of student conduct policies based on race or ethnicity is wholly unacceptable and contrary to college policy and Campus Safety training and procedures," McIntosh wrote.
The student paper reported that McIntosh also indirectly confirmed in the email that Officer Skinner had been involved in physically restraining a student in one of the college's dormitories just a day before the video was posted.
Senior Associate Dean of Students Carl Steidel told The Bates Student the college will publish the results of the outside investigation once it had been completed.
'More apt not to document a person of color'
The whole situation started when Skinner responded to a "purported" noise complaint in mid-February, The Bates Student reported, adding he entered the room where six unmasked students were present.
In an interview with The Bates Student, the Muslim student said he had tried to distract the officer from writing them up by calling out Skinner's Blue Lives Matter mask he had on.
Skinner's neck gaiter mask featured the Thin Blue Line flag, a symbol that has remained controversial.
He also told The Bates Student that when Skinner responded with sharing his opinion on the Blue Lives Matter mask, he told Skinner his comments were "insightful" even though he really thought they were "ignorant."
This alleged conversation was not recorded.
The conversation that was recorded took place later that same night after Skinner came back to the room alone, The Bates Student reported:
The student said the officer told him that he could write him up, because he was breaking quarantine rules, and because he had lied to him about being the room's occupant.

The student said he "lost his temper" at being confronted by the worst-case scenario of being written-up and sent home, so he brought the Blue Lives Matter topic up again and attacked him for wearing the mask.

"[Do] you know what that represents to somebody like me?" he recounted saying.

The student said the officer became defensive and denied it was a Blue Lives Matter symbol.

In total, the second conversation lasted near 45 minutes, the student said. His roommate returned to their room partway through and recorded more than six minutes of the discussion before his phone died.
The six-minute video may have been taken without Skinner's knowledge, and what's more, only two-and-a-half minutes of it was posted to the Bates Student Rights account.
Skinner states in the video that he and other officers are "more apt not to document a person of color."
"I'm being honest with you, I think most of the department is like that," he said.
Skinner continues to note that while it may appear that white students "get away with a lot more" than students of color, that's not necessarily the case.
"It may seem that we let a lot of more white kids go. However, we have a lot more here. So … we may let five go and write up fifteen that you don't know about," he said.
Still, Skinner said he understands that it is tough for students of color to trust campus security staff although he believes many of the officers are willing to let students off with a warning and not write them up.
He also said that most of the officers look to just take care of the issue they were called in for and will overlook other minor violations they may happen to see—such as the presence of alcohol.
"You probably don't believe us. I mean, like you said, you got some officers that have a bad reputation, and we know that, but I, like every police officer, as we were talking about–you got the good and you got the bad," he said.
The next day, Officer Skinner sent an email to the Muslim student, cc-ing his boss, Director of Security Paul Menice, asking what steps might be taken to improve relations between campus security staff and students.
"As we discussed last night, there is a gap between students and Campus Safety," Skinner begins in the email obtained by The Bates Student. "What ideas would you have to help assist in bridging the gap between us? As I stated last night, our department is willing to sit with you and any other student(s) that would be interested in talking about any issue that you feel needs to be addressed."
According to The Bates Student, the identities of the student who had the conversation with Skinner and the roommate who recorded the video are being kept private as they are "seeking a level of privacy in what has been a traumatic and hard-to-comprehend series of incidents."
But, the Bates Student Rights group posted in the caption to the video: "This is the type of person our college employs to 'keep us safe,' we call for action and institutional change."
Bates Black Student Union was one of the groups that reposted the video on Instagram.
In its post, the group argues it was "dishonest" for Officer Skinner to claim that campus security staff tend to not write up students of color out of fear that they could lose their jobs.
"All of the interactions that students of color, Black students specifically, have had with security have been harsh, violent, and scary (this is a fact that has been named by multiple students of color, and especially Black students)," they wrote.
The group's caption also notes that the student who was restrained by Skinner was white, and that it's "ironic how as a collective black students have been saying Bates Security is violent but as soon as a white student gets attacked it is now being addressed by administrators."
However, according to the student paper, when a black student was tackled in 2017, the administration conducted a similar investigation.
VIDEO: Campus security guard roughs up Trump supporter at Bernie Sanders rally
IMAGE: Jennifer Yakey-Ault / Shutterstock
Like The College Fix on Facebook / Follow us on Twitter